Mixer SOUNDCRAFT FX16ii
(0 đánh giá)
Mã SKU: FX16ii
Mã hàng : FX16ii / A.D
Bảo hành : 12 tháng
Tình trạng : Còn hàng
Xuất xứ: China Mô tả sản phẩm:
Số lượng

Tư vấn & Báo giá
Mixer SOUNDCRAFT FX16ii
Mixer SOUNDCRAFT FX16ii là bộ trộn âm thanh chuyên nghiệp của thương hiệu JBL được nhập khẩu và phân phối chính hãng bởi jblvietnam.vn tại Việt Nam
The Soundcraft FX16ii is a monster of an effects-included mixer! Teaming with Lexicon, a name synonymous with premium reverb and effects processing, Soundcraft brings us unexpected (but dreamed about!) effects quality in a console at this price level. The FX16ii is powerful in both the live and recording environments, boasting built-in tap tempo, 3 parameter controls, storage for user effects settings, and 32 incredible and editable effects to play with! With a new rugged surface and mounting design, the FX16ii can also be rack-mounted into a 10U space using Soundcraft's roating connector pod, allowing you to connect your cables behind your rack and out of your way. Using the same AudioDNA processor featured in the renowned Lexicon MX500, the Soundcraft FX16ii is a mixer that's sure to impress.
Soundcraft FX16ii at a Glance:
Quality Lexicon effects
16 direct outputs for recording
Newly designed rugged, mountable surface
Quality Lexicon effectsThe FX16ii uses the same AudioDNA processor used in the acclaimed Lexicon MX500 processor - premium Lexicon sounds built inside your mixer! The FX16ii includes 32 tweakable Lexicon effects, with tap tempo, an effects clip LED, 3 parameter controls, and the ability to store your own effects! Ten delays, 16 reverbs, chorus, flanger, phaser, rotary, vibrato - the FX16ii was designed to enhance your performance!
16 direct outputs for recordingThe FX16ii interfaces seamlessly with 16-track recording systems, offering direct outputs that are individually switchable for pre-post-fade operation.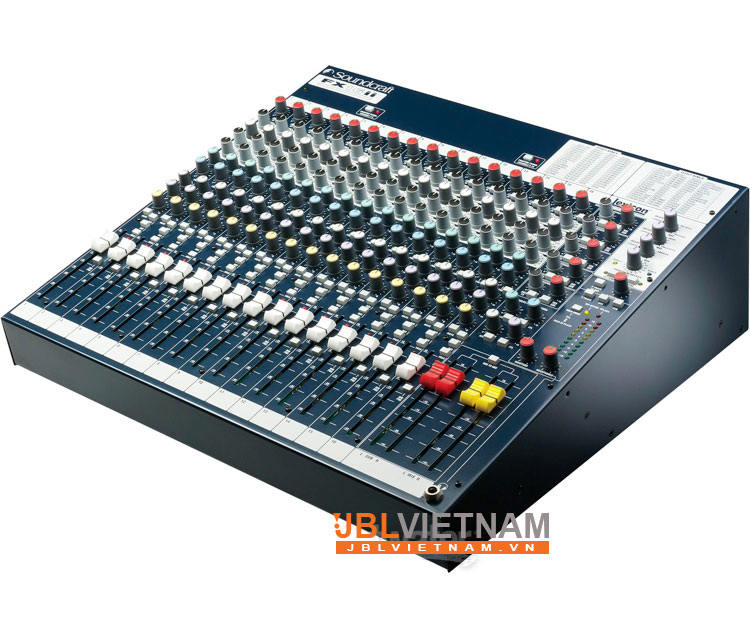 Newly designed, rugged, mountable surfaceSoundcraft included the latest PCB surface mount technology in their FX16ii. This means that not only is the unit durable, it can also be rack-mounted into a 10U space via Soundcraft's rotating connector pod, saving you rack space with its design!
>> xem thêm MIXER SOUNDCRAFT LX7II Series
Soundcraft FX16ii Features:
26 inputs
4 stereo returns
4-bus architecture
Built-in 24 bit Lexicon digital effects processor
32 effects settings
Tap tempo
3 effects parameter rotaries
Direct outputs for recording
Inserts on all mono channels
Inserts on stereo mix output
Soundcraft 3-band EQ with swept mix-band
Stereo 18dB/octave 100Hz highpass filter
48v global phantom power option on channels 1-8 or 9-16
Two sub-group outputs
Universal power supply
Mixer SOUNDCRAFT FX16ii
Type : Analog
Channels : 16
Inputs - Mic Preamps : 16 x XLR
Inputs - Line : 16 x 1/4" (CH 1-16), 2 x RCA (2 TRK)
Inputs - Other : No Other Inputs
Outputs - Main : 2 x XLR, 1 x 1/4" (Mono)
Outputs - Direct : 2 x 1/4" (Monitor)
Outputs - Other : 2 x 1/4" (Sub)
Headphones : 1 x 1/4"
Send/Return I/O : 3 x 1/4" (Aux), 6 x 1/4" (Return)
Phantom Power : Yes (CH 1-16)
EQ Bands : 3-band, Sweepable Mid
Aux Sends : 2 x Pre, 1 x Pre/Post, 1 x FX
Busses/Groups : 2 Bus Sub
Faders : 20 x 100mm
Channel Inserts : 2 x 1/4" (Mix Inserts), 2 x 1/4" (Sub Inserts)
Effects : Yes
Talkback : No Talkback
Computer Connectivity : No Computer Connectivity
Rackmountable : Yes
Height : 5.83"
Depth : 17.42"
Width : 17.46"
Weight : 19 lb