Ampli CROWN CDi6000
(0 đánh giá)
Mã SKU: CDi6000
Mã hàng : CDi6000
Bảo hành : 12 tháng
Tình trạng : Còn hàng
Xuất xứ: China Mô tả sản phẩm:
Số lượng

Tư vấn & Báo giá
Ampli CROWN CDi6000
Ampli CROWN CDi6000 là amply công suất của thương hiệu JBL được nhập khẩu và phân phối chính hãng bởi jblvietnam.vn tại Việt Nam
The CDi 6000 from Crown Audio is a rugged, lightweight amplifier designed for installed audio applications. CDi stands for "Contractor Digital Intelligence". The CDi 6000 provides accurate, uncolored sound with low distortion for excellent music and vocal reproduction. It also handles a wide range of speaker impedances and outputs, including 70/140V and 2/4/8 Ohms, making it very versatile.

Advanced protection circuitry guards against shorted outputs, open circuits, DC, mismatched loads, general overheating, high-frequency overloads and internal faults. The CDi 6000 also has integrated DSP presets for crossover frequencies, EQ, limiting, compression, delay, and a subharmonic synthesizer. A backlit LCD displays relevant information. The amplifier has a universal power supply for international use.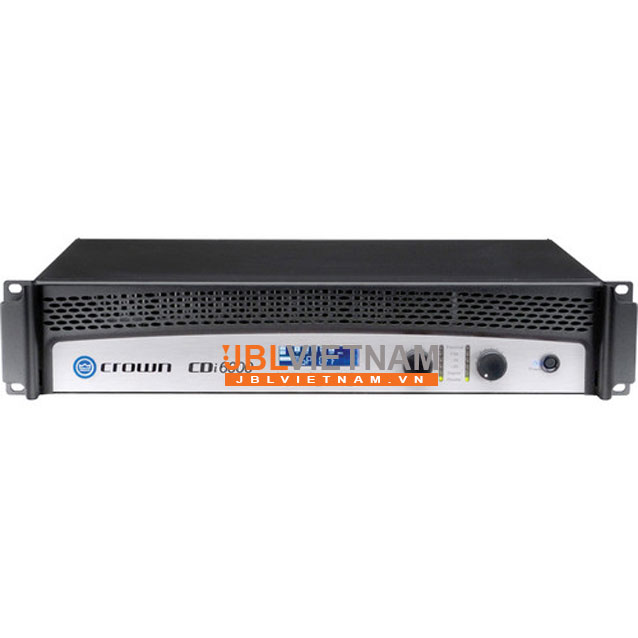 Rugged and lightweight steel construction, fits in any standard equipment rack
Operates in dual or bridge-mono modes
Wide range of speaker impedances and outputs, including 2/4/8 Ohms and 70/140V
Excellent sound reproduction with low distortion
Advanced protection circuitry protects against overheating, overloads, and shorts
Integrated DSP presets for crossover frequencies, EQ, limiting, compression, delay, and a subharmonic synthesizer
Switch-mode universal power supply
Backlit LCD shows relevant information
>> xem thêm POWER CROWN CDI Series
Ampli CROWN CDi6000
Frequency Response : 20Hz - 20kHz (@ 1W into 4 Ohms)
Sensitivity : 1.4V @ 8 Ohms
Signal to Noise Ratio : 100dB
Voltage Gain : Not Specified by Manufacturer
Load Impedance : 2-8 Ohms (Stereo)
4-16 Ohms (Bridge-Mono)
Input Impedance : 20 kOhms, Balanced
10 kOhms, Unbalanced
Output Power : 3000W @ 2 Ohms Dual (Per Channel)
2100W @ 4 Ohms Dual (Per Channel)
1200W @ 8 Ohms Dual (Per Channel)
6000W @ 4 Ohms Bridge-Mono
2500W @ 70V Dual (Per Channel)
5000W @ 140V Bridge-Mono
Damping Factor : > 500
Crosstalk : > 70dB
Max Input Signal : +22dBu, Typical
Inputs : 2 x 3-Pin Removable Phoenix-Type
Outputs : 4-Position Barrier Strip with Connectors for Dual Loudspeakers or Bridge-Mono Loudspeaker
Power : 100V, 120V-240V, 50/60Hz
Dimensions (WxHxD) : 19 x 3.5 x 16.2" (483 x 89 x 412mm)
Weight : 24 lbs (10.9kg)