Ampli CROWN CT475
(0 đánh giá)
Mã SKU: CT475
Mã hàng : CT475
Bảo hành : 12 tháng
Tình trạng : Còn hàng
Xuất xứ: China Mô tả sản phẩm:
Số lượng

Tư vấn & Báo giá
Ampli CROWN CT475
Ampli CROWN CT475 là cục đẩy công suất của thương hiệu JBL được nhập khẩu và phân phối chính hãng bởi jblvietnam.vn tại Việt Nam
The CT475, part of the ComTech DriveCore series from Crown Audio, is a 4-channel power amplifier that offers professional audio quality in a slim design. The amplifier has a 1RU chassis, allowing you to install it in any standard equipment rack. It provides 75W per channel into 8 ohms for strong, clear audio with low distortion. DriveCore technology provides excellent efficiency of over 90% for a fantastic performance to power ratio. It does not require a cooling fan, providing silent operation.

The amplifier offers flexible input routing, allowing you to send an input signal to any of the 4 outputs. Integrated Life-Safety features and patented feedback and protection circuitry protect the amplifier from damage to ensure a lifetime of reliable operation. A universal power supply lets you use the amplifier internationally, ideal for touring applications.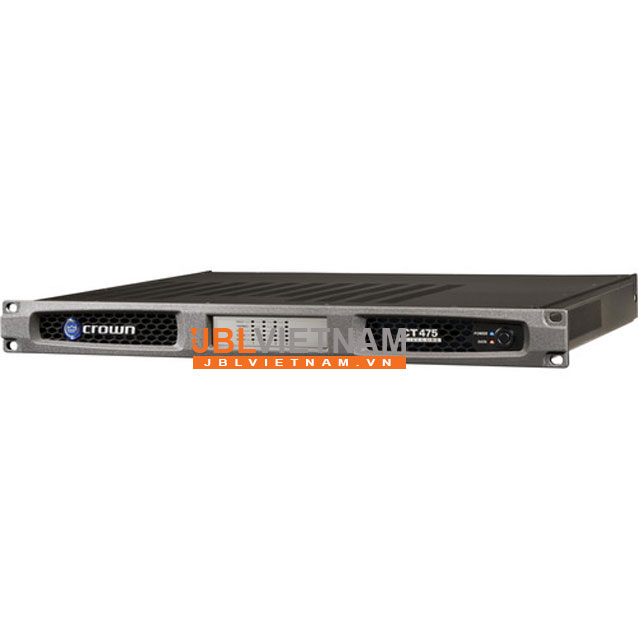 >> xem thêm POWER CROWN COMTECH DRIVECORE Series
Slim 1RU chassis can be installed in any standard equipment rack
Delivers 75W per channel into 8 ohms for strong, clear audio with low distortion
DriveCore technology provides excellent efficiency of over 90% for a fantastic performance to power ratio
No cooling fan required, providing silent operation
Flexible input routing allows you to send an input signal to any of the 4 outputs
Integrated Life-Safety features and patented feedback and protection circuitry protect the amplifier from damage to ensure a lifetime of reliable operation
A universal power supply lets you use the amplifier internationally, ideal for touring applications
Ampli CROWN CT475
Power Rating : 75W/Channel @ 8 Ohms
Channels : 4
Damping Factor : Not Specified by Manufacturer
Input Sensitivity : 1.4V
Frequency Response : 20Hz - 20kHz ±0.5dB
Signal-to-Noise Ratio : 110dB
Total Harmonic Distortion (THD) : < 0.05%
Intermodulation Distortion (SMPTE) : < 0.05%
Crosstalk : > 70dB
Common Mode Rejection Ratio : > 55dB, > 70dB Typical
Connectors : 4 x 3-Pin Phoenix Inputs
4 x 2-Pin Phoenix Outputs
1 x Power Input
Controls : 4 x Input Attenuator Knobs
1 x Set of Amp Control DIP-Switches
1 x Power Switch
Indicators : 1 x Power LED
4 x Signal LEDs
4 x Clip LEDs
4 x Thermal LEDs
4 x Fault LEDs
Cooling : Convection
Power Consumption : Not Specified by Manufacturer
Power Requirements : Universal Power Supply
Dimensions (HxWxD) : 1.75 x 19 x 14.25" (44 x 483 x 362mm)
Weight : 10 lbs (4.54kg)