Ampli CROWN XTi1002
(0 đánh giá)
Mã SKU: XTi1002
Mã hàng : XTi1002
Bảo hành : 12 tháng
Tình trạng : Còn hàng
Xuất xứ: China Mô tả sản phẩm:
Số lượng

Tư vấn & Báo giá
Ampli CROWN XTi1002
Ampli CROWN XTi1002 là cục đẩy công suất của thương hiệu JBL được nhập khẩu và phân phối chính hãng bởi jblvietnam.vn tại Việt Nam
Crown's XTi 2 series STI1002 amp is 275 watts @ 8 ohms, 500 watts @ 4 ohms, and 700 watts @ 2 ohms.
With such innovations as a universal tracking switch-mode power supply and a fully integrated suite of speaker processing tools, these amps are at the top of their class when it comes to thermal efficiency and system flexibility.
The addition of Peakx Plus™ Limiters gives you full command over threshold, attack and release, and an enhanced the Subharmonic Synth so you can easily manage frequency, gain and filter type, allowing for application-specific tuning.
Plus, you'll now be able to tailor fan speed for specific applications and have software visibility of the Power Supply Temperature and AC Line Voltage. Combine all of that with integrated cast-aluminum rack handles for maximum durability and portability.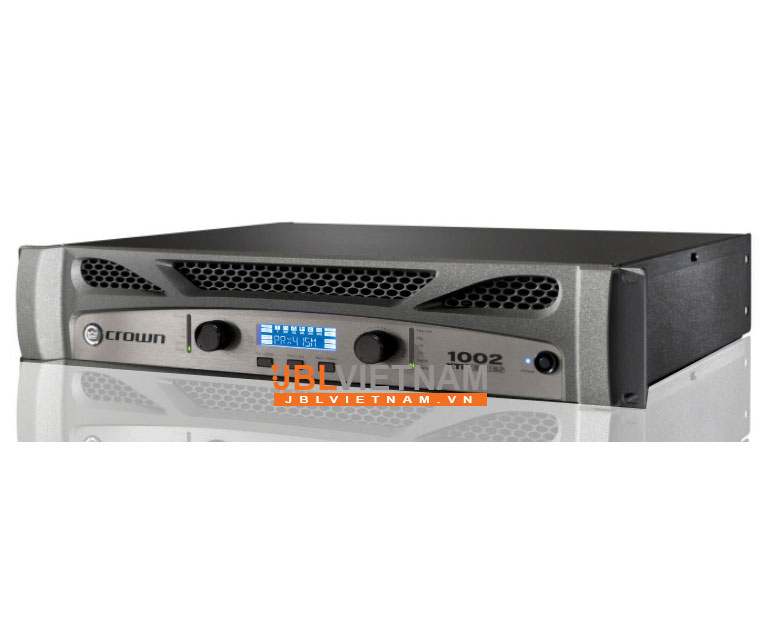 >> xem thêm POWER CROWN XTI2 Series
Crown XTi 1002 Features:
Peakx Plus™ Limiters provide the ultimate in system performance and protection by allowing full control over threshold, attack, and release
Enhanced Subharmonic Synth section provides user control over frequency, gain and filter type for system-specific tuning
3 User-defined fan mode controls – normal, early and fullspeed – for matching fan performance to a specific application
New system monitoring provides software visibility of AC line voltage and power supply temperature
Integrated cast-aluminum handles for easy handling and enhanced durability
Locking power cord clip provides a secure connection between the amplifier and power cord
Updated HiQnet Band Manager™ and System Architect™ control software
Increased number of presets to a total of 30; 29 of which are user-definable
Ampli CROWN XTi1002
Enhanced Subharmonic Synth section provides user control over frequency, gain and filter type for system-specific tuning
3 User-defined fan mode controls – normal, early and fullspeed – for matching fan performance to a specific application
New system monitoring provides software visibility of AC line voltage and power supply temperature
Integrated cast-aluminum handles for easy handling and enhanced durability
Locking power cord clip provides a secure connection between the amplifier and power cord
Updated HiQnet Band Manager™ and System Architect™ control software
Increased number of presets to a total of 30; 29 of which are user-definable