Bộ micro AKG DHT70/D5
(0 đánh giá)
Mã SKU: DHT70/D5
Mã hàng : DHT70/D5
Bảo hành : 12 tháng
Tình trạng : Còn hàng
Xuất xứ: China Mô tả sản phẩm:
Số lượng

Tư vấn & Báo giá
Bộ micro AKG DHT70/D5
Bộ micro AKG DHT70/D5 là bộ thu phát không dây của thương hiệu JBL được nhập khẩu và phân phối chính hãng bởi jblvietnam.vn tại Việt Nam
The AKG DHT70 is a handheld transmitter for AKG's DMS70 uncompressed digital wireless systems. The DHT70 is fitted with AKG's D5 dynamic supercardioid capsule for excellent sound and rejection of off-axis noise. AKG's latest digital technology includes bidirectional communication between transmitters and receiver, for a "smart" system that's very easy to use. The systems operate in the 2.4GHz range for worldwide, license-free use, and sport 24-bit, 48kHz coding for studio-grade audio transmission. You also get AES 128-bit encryption, dynamic frequency selection, and battery-saving auto power off. Get studio-quality wireless sound onstage, with the AKG DHT70 handheld transmitter.
AKG DHT70 Wireless Transmitter at a Glance:
Easy to use, plug-and play operation
Operates in the 2.4GHz ISM band
Use it anywhere you need studio-quality wireless sound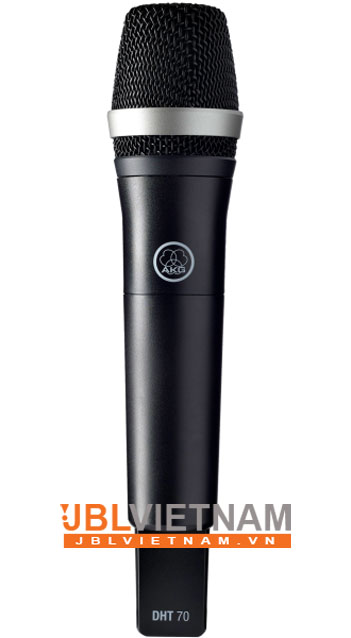 Easy to use, plug-and play operationThe AKG DHT70 transmitter and DSR70 receiver communicate bidirectionally, making your setups as simple as plug-and-play. Dynamic frequency selection (DFS) ensures that only the cleanest frequency bands are automatically selected and deployed. And with AES 128-bit encryption engaged, the system is perfect for applications where secure transmission is required.
Operates in the 2.4GHz ISM bandThe AKG DMS70 wireless system gives you worldwide license-free operation. Operating in the 2.4GHz ISM band, you can use your DMS70 system on any stage, anywhere. AKG's diversity system instantly identifies and selects the optimal frequency band. With no painful frequency scanning, all you need to do is perform!
Use it anywhere you need studio-quality wireless soundThe AKG DMS70 wireless system is perfect for club sound, conferences, seminars, schools, and houses of worship - anywhere you need high-quality sound, wirelessly. Anywhere you use it, AKG's uncompressed digital wireless technology gives you license-free worldwide operation, studio-grade sound, and incredible ease of use.
>> xem thêm MICRO AKG DMS 70 Series
Bộ micro AKG DHT70/D5
Compatibility with AKG's DMS70 uncompressed digital wireless system
Uncompressed digital wireless transmission for exceptional studio-quality sound
Patented state-of-the-art D5 dynamic supercardioid capsule
True uncompressed transmission for best audio quality
Out-of-range warning for secure operation
Auto power off function saves battery life and reduces operating costs
Digital transmitter diversity for unmatched signal stability