Bộ micro AKG WMS SR470
(0 đánh giá)
Mã SKU: SR470
Mã hàng : SR470
Bảo hành : 12 tháng
Tình trạng : Còn hàng
Xuất xứ: Chính hãng Mô tả sản phẩm:
Số lượng

Tư vấn & Báo giá
Bộ micro AKG WMS SR470
Bộ micro AKG WMS SR470 là bộ thu phát không dây của thương hiệu JBL được nhập khẩu và phân phối chính hãng bởi jblvietnam.vn tại Việt Nam
SR470 analog space diversity professional wireless receiver comes in a rugged half-rack metal housing. The enhanced Auto Setup, Environment Scan and Rehearsal mode allows a very quick and easy system setup. The programmable backlight changes color to warn the user of critical operating conditions e.g. transmitter low battery information, audio peaks, or low radio signal strength.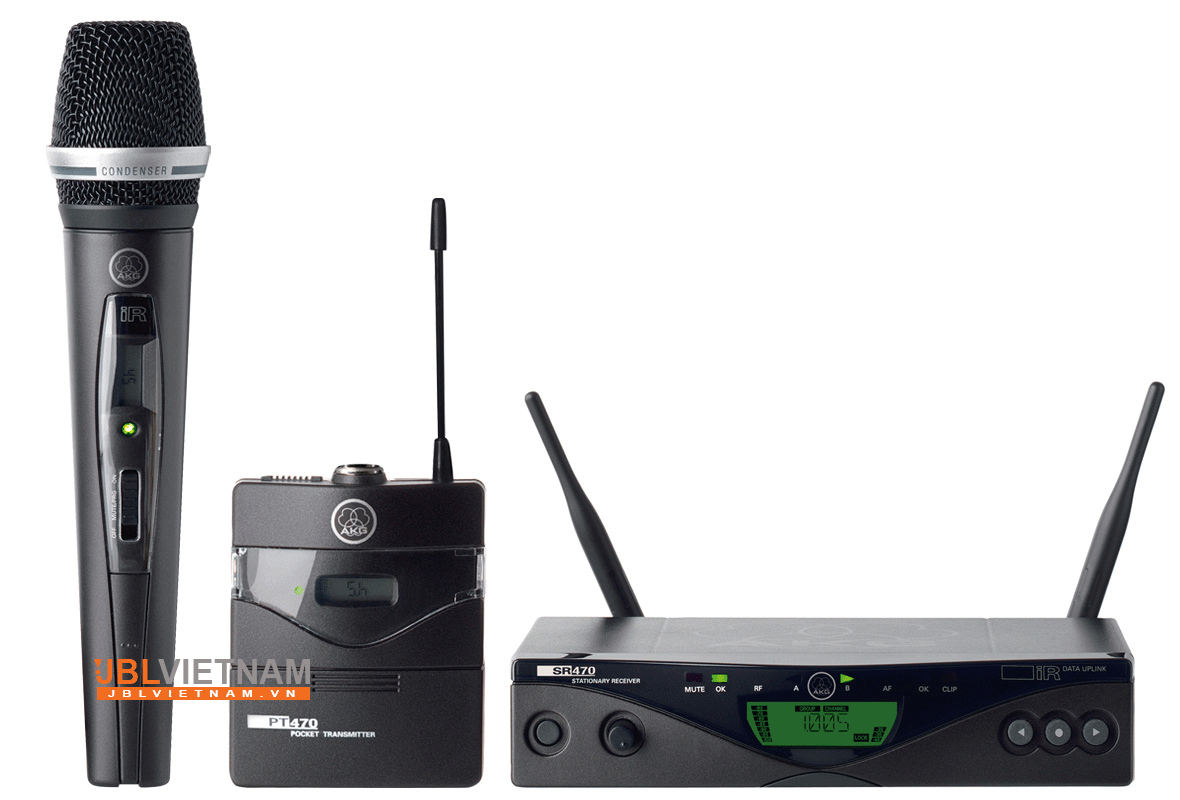 A wide range of professional antenna splitters, power supplies, and high quality remote antennas are available to handle complex antenna systems and up to 48 simultaneous wireless channels, even with large covering area.
>> xem thêm MICRO AKG WMS470 Series
Bộ micro AKG WMS SR470
Audio

Audio

Frequency

bandwidth

: 35 to 20000

Definition of

Hz:] body=[A unit of measure of the frequency of a vibrating object, such as a guitar string, speaker cone or electrical signal. Equivalent to cycles per second, it is named for Heinrich Hertz and abbreviated "Hz."] cssheader=[boxoverheader] cssbody=[boxoverbody]">Hz

Signal to Noise

: 120 dB-A

THD

at 1

kHz

: 0.3 Prozent
Enhanced

Operating temperature range

: -10 to 55 Celsius

Radio

Sensitivity

: -100

dBm

Radio

Switching

Definition of

Bandwidth:] body=[Literally, bandwidth is a frequency span. Beyond that definition, its meaning will depend somewhat on context. For example, the bandwidth of a bandpass filter is the upper cutoff frequency minus the lower cutoff frequency (cutoff frequency being the filter's -3 dB point). The audio bandwidth is generally given as 20 Hz to 20,000 Hz, although there are harmonic components of audio that extend far above the 20k point. In most situations where bandwidth is given as an audio spec, the wider the frequency range the better. Be sure that when comparing bandwidth on different devices, that the same spec is being expressed. For example, some effects devices cite their bandwidth spec based on the dry, or unprocessed signal, while others give the bandwidth of the actual processed sound. These difference between these two specs (both listed as "bandwidth") can be substantial.

] cssheader=[boxoverheader] cssbody=[boxoverbody]">bandwidth

: 30

Definition of

MHz:] body=[The prefix "mega" means 1,000,000, so there are 1,000,000 Hz in one MHz. This is a typical frequency for radio equipment as well as high-tech scientific instruments such as magnetic resonance imaging (MRI, or NMR) scanners.] cssheader=[boxoverheader] cssbody=[boxoverbody]">MHz
Recommended simultaneous

channels

: 32

Number of selectable frequencies

: 1220 (selectable in 25kHz steps)

Frequency

Selection: Selectable

frequency

in 25kHz steps
Wireless

channels

within device: -

Radio

Range (Line of Sight): 100m (depending on

antenna

system)
Switchable

RF

Power

: no

Definition of

Modulation:] body=[In electronics, modulation is the process of varying one or more properties of a high frequency periodic waveform, called the carrier signal, with respect to a modulating signal. This is done in a similar fashion as a musician may modulate a tone (a periodic waveform) from a musical instrument by varying its volume, timing and pitch. The three key parameters of a periodic waveform are its amplitude ("volume"), its phase ("timing") and its frequency ("pitch"), all of which can be modified in accordance with a low frequency signal to obtain the modulated signal. Typically a high-frequency sinusoid waveform is used as carrier signal, but a square wave pulse train may also occur.



In music synthesizers, modulation may be used to synthesise waveforms with a desired overtone spectrum. In this case the carrier frequency is typically in the same order or much lower than the modulating waveform.

] cssheader=[boxoverheader] cssbody=[boxoverbody]">Modulation

:

FM

(

Frequency

Definition of

Modulation:] body=[In electronics, modulation is the process of varying one or more properties of a high frequency periodic waveform, called the carrier signal, with respect to a modulating signal. This is done in a similar fashion as a musician may modulate a tone (a periodic waveform) from a musical instrument by varying its volume, timing and pitch. The three key parameters of a periodic waveform are its amplitude ("volume"), its phase ("timing") and its frequency ("pitch"), all of which can be modified in accordance with a low frequency signal to obtain the modulated signal. Typically a high-frequency sinusoid waveform is used as carrier signal, but a square wave pulse train may also occur.



In music synthesizers, modulation may be used to synthesise waveforms with a desired overtone spectrum. In this case the carrier frequency is typically in the same order or much lower than the modulating waveform.] cssheader=[boxoverheader] cssbody=[boxoverbody]">Modulation)

Encryption

: No encryption

Diversity

: Space

Diversity

Pilot Tone

: yes
General

Transmitter Synchronization

:

Definition of

Infrared:] body=[Literally means "below red". The band of frequencies just below the visible light spectrum.] cssheader=[boxoverheader] cssbody=[boxoverbody]">Infrared

HiQnet compatible

: No

Racksize

: 1/2 Racksize (19")

Rackheight

: 1

Definition of

RU:] body=[A rack unit or U (less commonly, RU) is a unit of measure used to describe the height of equipment intended for mounting in a 19-inch rack or a 23-inch rack (The dimension refers to the width of the equipment mounting frame in the rack i.e. the width of the equipment that can be mounted inside the rack). One rack unit is 1.75 inches (44.45 mm) high.



The size of a piece of rack mounted equipment is frequently described as a number in "U". For example, one rack unit is often referred to as "1U", 2 rack units as "2U" and so on.] cssheader=[boxoverheader] cssbody=[boxoverbody]">RU

Antenna

Interface

Amount

: 2

Type

:

BNC

Gender

: Female

Note

:

Radio

input for connection to remote antennas

Audio

Outputs 1

Amount

: 1

Type

:

Definition of

Balanced:] body=[An audio line comprising three conductors: two carrying signal and a ground (shield) wire, in which one of the signal wires carries the sound and the other carries an inverted copy. When the signal reaches the destination, the inverted copy is flipped and added to the original. Any noise that has been induced into the signal is also inverted. When this is combined with the "uninverted" noise, it cancels it out. Balanced lines thus are less susceptible to hum and can carry audio signals over longer distances. Balanced audio lines typically use 3-pin XLR or 1/4-inch tip-ring-sleeve, phone connectors.] cssheader=[boxoverheader] cssbody=[boxoverbody]">Balanced

XLR

Gender

: Male

Contacts

: 3-pin

Note

:

Definition of

Balanced:] body=[An audio line comprising three conductors: two carrying signal and a ground (shield) wire, in which one of the signal wires carries the sound and the other carries an inverted copy. When the signal reaches the destination, the inverted copy is flipped and added to the original. Any noise that has been induced into the signal is also inverted. When this is combined with the "uninverted" noise, it cancels it out. Balanced lines thus are less susceptible to hum and can carry audio signals over longer distances. Balanced audio lines typically use 3-pin XLR or 1/4-inch tip-ring-sleeve, phone connectors.] cssheader=[boxoverheader] cssbody=[boxoverbody]">Balanced

audio

output

level

switchable to -30 or 0

dB

Audio

Outputs 2

Amount

: 1

Type

: Unsymetrischer Klinkenstecker (6,3mm)

Gender

: Female

Contacts

: 3-pin

Note

:

Unbalanced

audio

output
Powering

Interface

Internal

Power

Supply: no

Type

: Lockable

DC

Socket

Voltage

: 12 to 12 V
Design

Body

: Metal

Finish

: black
Dimensions / Weight

Length

: 44

mm

Height

: 202

mm

Width

: 177

mm
| | |
| --- | --- |
| | |
| AAAAAAAAAAAAAA | bbbbbAAAAAAAAAAAAAVVVVVVVVVVVVVVAAAAAAAAAAAAAAAAAAAAAAAAAAAAAAAAAAAAAAAAAAAA |
| BBBBBBBBBBBBBBBBBBBBBBBBB | fffffBBBBBBBBBBBBBBBBBBBBBBBBBBBB |
| | |