Crossovers DBX 223S
(0 đánh giá)
Mã SKU: 223S
Mã hàng : 223S / A.D
Bảo hành : 12 tháng
Tình trạng : Còn hàng
Xuất xứ: China Mô tả sản phẩm:
Số lượng

Tư vấn & Báo giá
Crossovers DBX 223S
Crossovers DBX 223S là thiết bị xử lý âm thanh của thương hiệu JBL được nhập khẩu và phân phối chính hãng bởi jblvietnam.vn tại Việt Nam
The secret to making speakers sound great lies with the crossover you use. With the dbx® 223s Crossover you'll get great performance, ultra low-noise, rugged reliability and four decades of dbx knowledge and expertise in building the world's finest processors. The 223s uses precision filters to separate the audio signal and direct the correct frequencies to your loudspeaker drivers. By directing only the specific frequency bands to each speaker driver the 223s leaves your amplifiers free to use their full power on the usable signal eliminating distortion and giving your PA system a cleaner and better sound.
The dbx 223s is a dual channel crossover with all the features you would expect from a professional product. It features Linkwitz-Riley 24dB per octave filters, independent output gain controls for level matching, output phase inversion, 40 Hz low cut filter, and optional mono summing of the low frequency (subwoofer) output. Everything in the design exudes great precision from the solid "click" controls to the high quality 1/4" TRS inputs and outputs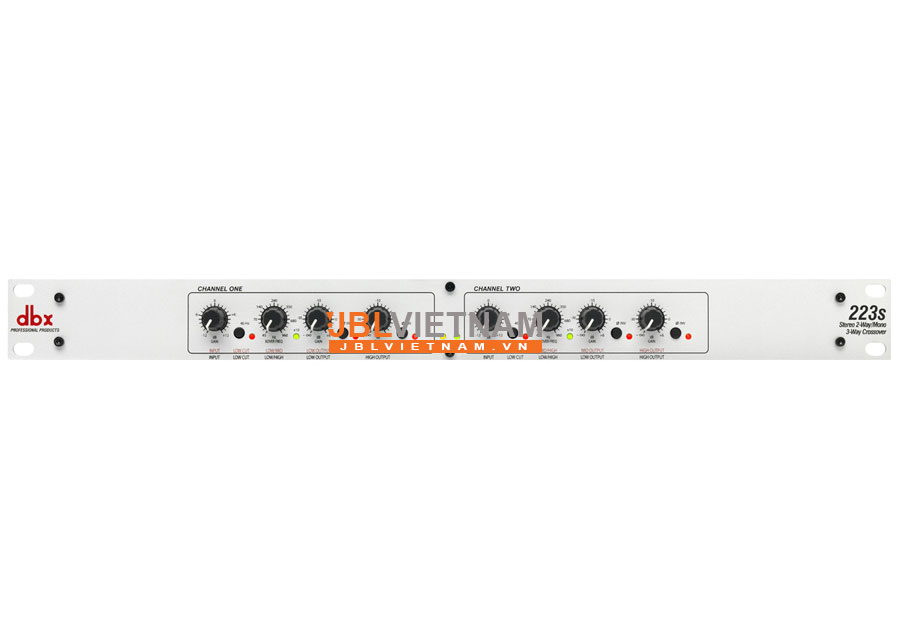 TRS differentially balanced ins and outs
Mode switch for stereo 2-way or mono 3-way operation
Low frequency summed (subwoofer) output
x10 range switch on both channels
40Hz high pass (low cut) filter both channels
Phase reverse switch on all outputs
Individual level controls on all outputs
24dB per octave Linkwitz-Riley filters (the professional standard)
Stereo/Mono status LEDs indicate the selected mode
dbx® 2 year parts and labor as standard
CSA NRTL/C approved
CE compliant
>> xem thêm EQUALIZE DBX DYNAMICS
.
Crossovers DBX 223S
Crossover Frequencies (Mono Mode) : Low/Mid: 45 to 960 Hz or 450 Hz to 9.6 kHz (x10 setting); Mid/High: 45 to 960 Hz or 450 Hz to 9.6 kHz (x10 setting)
Crossover Filter Type : Linkwitz-Riley, 24 dB/octave, state-variable
Low cut Switch : Activates 40 Hz Butterworth, 12 dB/octave high-pass filter, one switch per channel.
Phase Invert Switch : Inverts the phase at the output, one switch per output.
x1 / x10 Switch : Multiplies the low-high(mono: low/mid and high/mid) crossover frequency range of the front-panel markings by a factor of 1 or 10, one switch per channel.
Mode Switch : Selects stereo/mono and 2/3-way operation
LF Sum Switch : Selects normal (stereo) or mono-summed low frequency operation and disables Ch 2's low output phase invert LED to indicate that this output is not operational in the LF sum mode.
Indicators : Stereo Operation (Green); Mono Operation (Yellow); Low Cut (Red-per channel); x10 (Green-per channel); Phase Invert (Red-per output)
Operating Voltage : 100 VAC 50/60 Hz; 120 VAC 60 Hz 230 VAC50 HZ
Operating Temperature : 32°F to 113°F (0°C to 45°C)
Power Consumption : 15W
Power Connector : IEC receptacle
Dimensions : 1.75" H X 19" W X 6.9" D (4.4cm x 48.3cm x 17.5cm)
Unit Weight : 3.7 lbs. (1.7 kg)
Shipping Weight: 5.4 lbs. (2.5 kg)