Loa JBL Control 29AV-1-WH
(0 đánh giá)
Mã SKU: 29AV-1-WH
Mã hàng : Control 29AV / A.D
Bảo hành : 12 tháng
Tình trạng : Còn hàng
Xuất xứ: Chính hãng Mô tả sản phẩm:
Số lượng

Tư vấn & Báo giá
Loa JBL Control 29AV-1-WH
Loa JBL Control 29AV-1-WH là dòng loa sân khấu chuyên nghiệp của thương hiệu JBL được nhập khẩu và phân phối chính hãng bởi jblvietnam.vn tại Việt Nam
Thông tin sản phẩm : loa JBL Control 29AV-1-WH
Extended bandwidth, extremely smooth frequency response.
110° x 85° HF coverage, rotatable horn.
110 W transformer for 70 V or 100 V lines, with 8 ohm thru.
SonicGuard™ overload protection.
200 mm (8 in) Kevlar cone woofer,
25 mm (1 in) titanium diaphragm compression driver.
Includes InvisiBall™ mounting hardware, plus ten 6 mm attachment points for suspension and
optional U-bracket.
Sealed input panel cover and screwdown input terminals.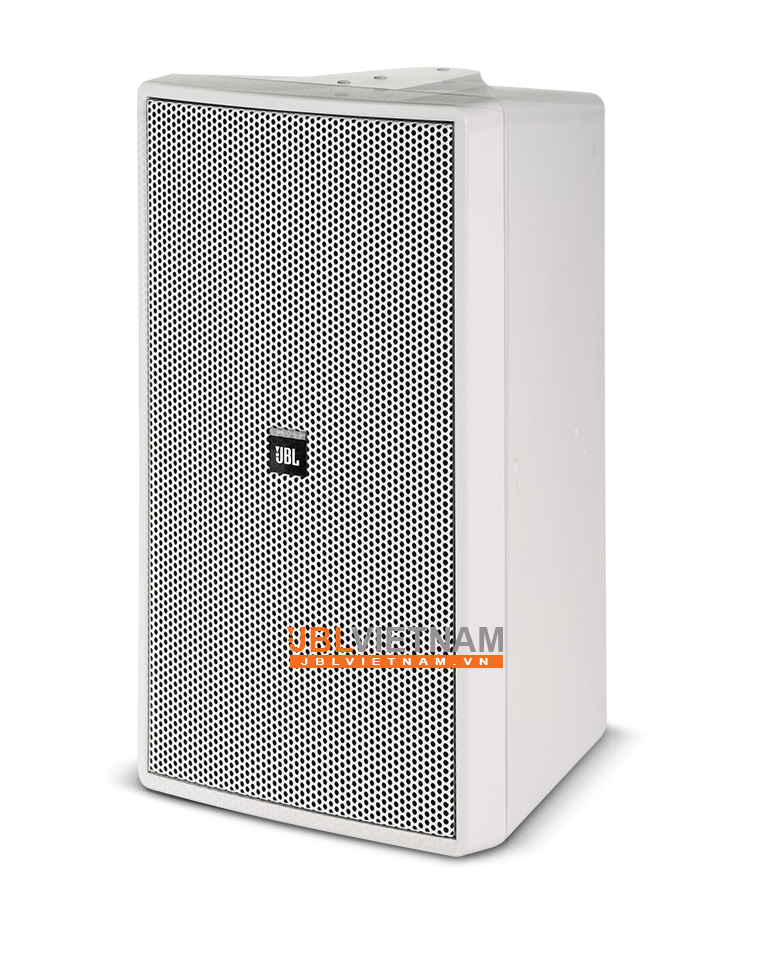 >> xem thêm LOA JBL Control contractor surface mount subwoofers Series
Loa JBL Control 29AV-1-WH
Frequency Range
37 Hz –18 kHz (-10 dB)
Power Capacity
300 W Continuous Program Power; 150 W Continuous Pink Noise
Transformer Taps
70 V: 110 W, 55 W, 28 W & 14 W 100 V: 110 W, 55 W, & 28 W,
Thru Position: 8 ohms nominal
Frequency Response
45 Hz – 18 kHz ( ± 3 dB)
Maximum SPL @ 1m
Short-Term: 120 dB; Long-Term: 114 dB
Nominal Sensitivity
90 dB (2.83V / 1m)
Nominal Coverage Angle
110° H x 85° V, rotatable
Directivity Factor (Q)
7.2 dB, averaged 500 Hz to 16 kHz
Directivity Index (DI)
8.6 dB, averaged 500 Hz to 16 kHz
Nominal Impedance
8 ohms
Minimum Impedance
6.3 ohms @ 230 Hz
Crossover Network
3rd order High Pass, 2nd order Low Pass with impedance compensation, 2.5 kHz crossover frequency
Low Frequency
200 (8 in) kevlar cone with pure butyl rubber surround, 50 mm (2 in) voicecoil on fiberglass former
High Frequency
25 mm (1 in) compression driver, pure titanium diaphragm with patented JBL diamond surround
Enclosure Material
High impact polystyrene
Grille
Thermoset composite coated steel, WeatherMax multi-layer foam
Overload Protection
Full-range power limiting to protect network and transducers. Serviceable internal fuse to protect during exceptional overload conditions.
Environmental
IEC 529 IP-X5 rating. Exceeds Mil Spec 810 for humidity, salt spray, temperature & UV. Passes Mil-Std-202F for salt spray.
Terminations
Screw-down terminal strip, zinc plated copper base, nickel plated metal screws/washers. Accepts up to 9 mm outside 4 mm inside open lug (#6, #8 or #10 lug), plus bare wire (up to 12 AWG/2.5 mm2).
Safety Agency Rating
Transformer is listed per UL1876
Colors
Black or white (-WH)
Dimensions (H x W x D)
520 x 306 x 277 mm (20.5 x 12.0 x 10.9 in.)
Net Weight (ea)
12.2 kg (26.8 lb.)
Shipping Weight (ea)
14.0 kg (30.8 lb.)
Included Accessories
1 pc MTC-PC2 input panel cover, InvisiBall mounting base, 6 mm x 260 mm InvisiBall Hex wrench.
Optional Accessories
MTC-29CM to install speaker down from the ceiling MTC-29UB U-bracket