Mixer SOUNDCRAFT MFXi20
(0 đánh giá)
Mã SKU: MFXi20
Mã hàng : MFXi20
Bảo hành : 12 tháng
Tình trạng : Còn hàng
Xuất xứ: China Mô tả sản phẩm:
Số lượng

Tư vấn & Báo giá
Mixer SOUNDCRAFT MFXi20
Mixer SOUNDCRAFT MFXi20 là bộ trộn âm thanh chuyên nghiệp của thương hiệu JBL được nhập khẩu và phân phối chính hãng bởi jblvietnam.vn tại Việt Nam
The Soundcraft MFXi 20 20-channel analog mixer gives you the channel count you need and the portability and great sound you want — plus digital effects! This compact mixer includes premium Lexicon effects, allowing you to get the most out of your mix without having to depend on racks of outboard gear. The MFXi 20 boasts 20 of Soundcraft's highly-transparent GB30 mic preamps — the same pres used on the larger LX7ii and GB series consoles. With two aux sends, two groups, a 3-band EQ, a handy, secure Kensington lock, and much more, the MFXi 20 puts Soundcraft quality within your budget.
Soundcraft MFXi 20 at a Glance:
High-quality mic preamps
Must-have routing and I/O
Premium Lexicon effects section
High-quality mic preamps
When designing the MFXi 20, Soundcraft brought excellent components to a truly appealing price. It features the the GB30 mic preamp that Graham Blyth designed expressly for the company's 30th anniversary — the GB30 is the same highly transparent mic preamp used on Soundcraft's larger LX7ii and GB series consoles.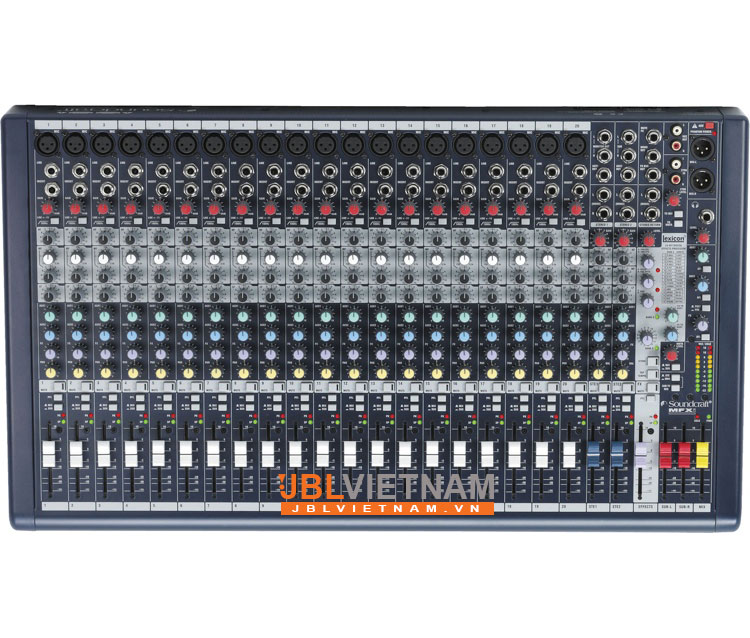 Must-have routing and I/O
When choosing a mixer, the amount of routing possibilities and I/O configurations are essential deciding factors and the MFXi 20 asserts an impressive outfit for its price. it includes two configurable aux sends, two groups, XLR and 1/4" metal jack connector sockets, RCA phono stereo playback inputs and record outputs, 3-band EQ on the two stereo inputs, TRS insert sockets, inserts on all mono outputs, ten-segment LED output metering, and a convenient headphone input. Inside, vertically mounted circuit boards and nutted pots give you premium performance and reliability. This mixer also includes a Kensington lock to keep it secure.
Premium Lexicon effects section
The MFXi 20's set of 24-bit digital effects sets it apart from many mixers in its class. You get two stereo channels and an effects send on each channel — and a whopping 32 effects to choose from. The MFXi 20 uses the same AudioDNA processor featured in many of the Digitech and Lexicon outboard equipment including the highly respected Lexicon MX400. Enjoy reverb, chorus and delay — complete with tap tempo — for a sound that's unmistakably Lexicon.
>> xem thêm MIXER SOUNDCRAFT MFXi Series
Soundcraft MFXi 20 Features:
20 inputs with two stereo inputs
Built-in 24-bit Lexicon digital effects processor
32 effects settings
Tap Tempo and effects setting store function
One effects send on each channel
Two configurable Aux busses
Two Stereo Inputs
Two Group busses
Stereo Mix Output
Aux 2 switchable Pre/Post
2-track record output
2-track replay input with level control
Globally switched +48V Phantom Power
GB30 mic preamps
Nutted pots
Peak LED
100Hz HPF
Insert point (mono channels)
3-band EQ with swept Mid band on mono inputs
3-band EQ on stereo inputs
PFL switch
Mix and group routing
Signal Present LED
60mm faders
Headphone and Control Room outputs with level control
Integral universal power supply
Kensington lock
Mixer SOUNDCRAFT MFXi20
Type : Analog
Channels : 24 (20 Mono, 4 Stereo)
Inputs - Mic Preamps : 20 x XLR
Inputs - Line : 20 x 1/4" (CH 1-20), 4 x 1/4" (Stereo Channels), 2 x RCA (2 TRK)
Inputs - Other : No Other Inputs
Outputs - Main : 2 x XLR, 1 x 1/4" (Mono)
Outputs - Direct : No Direct Outputs
Outputs - Other : 2 x RCA (REC), 2 x 1/4" (Mon), 2 x 1/4" (Sub)
Headphones : 1 x 1/4"
Send/Return I/O : 2 x 1/4" (Aux), 1 x 1/4" (FX), 2 x 1/4 (Return)
Phantom Power : Yes (CH 1-20)
EQ Bands : 3-band, Sweepable Mid
Aux Sends : 1 x Post, 1 x Pre/Post, 1 x FX
Busses/Groups : 2 x Stereo Sub
Faders : 26 x 60mm
Channel Inserts : Yes (CH 1-20)
Effects : Yes
Talkback : No Talkback
Computer Connectivity : No Computer Connectivity
Rackmountable : No
Height : 3.68"
Depth : 15.93"
Width : 27"
Weight : 20.4 lbs.