Loa hội trường JBL PRX735
(0 đánh giá)
Mã SKU: PRX 735
Mã hàng : PRX 735
Bảo hành : 12 tháng
Tình trạng : Còn hàng
Xuất xứ: China Mô tả sản phẩm:
Số lượng

Tư vấn & Báo giá
Loa hội trường LBL PRX735
Loa hội trường JBL PRX735 thuộc dòng loa sân khấu hội trường chuyên nghiệp của thương hiệu JBL Có thiết kế chắc chắn, kích thước gọn nhẹ, tích hợp công suất, có thể chịu đựng va đập và chống nước cộng với khả năng kết nối linh hoạt nên đáp ứng hoàn hảo cho việc di chuyển trong các chuyến biểu diễn âm nhạc dài ngày. Để tìm mua sản phẩm Loa JBL PRX735 với giá tốt nhất, bạn có thể liên hệ Jblvietnam.vn, đối tác tin cậy của tập đoàn Harman - JBL tại Việt Nam.
Đánh giá các ưu điểm của bộ loa sân khấu hội trường JBL PRX735
High-fidelity Full-range Sound From a PA Speaker
The JBL PRX715 powered PA speaker rocks 1500 watts of onboard Class D amplification through a 15" Differential Drive woofer, a horn-loaded 6.5" midrange transducer, and a 1.5" neodymium compression driver, delivering stellar performance even in challenging audio environments. The PRX715 gives you the flexibility of fly, floor, or stack mounting. Sophisticated DSP provides selectable EQ, protection, input-sensitivity adjustment, crossover functionality, dynamic limiting, and component optimization. If you need to reproduce high-fidelity full-range sound with subtlety and nuance, the 3-way, tri-amplified JBL PRX715 is an ideal choice.
Perfect for demanding applicationsThe 3-way PRX715 gives you extended frequency range for demanding applications. It's ideal for situations where the program material requires subtlety and nuance. Capable of reproducing full-range, high-fidelity sound without a subwoofer, when coupled with the extended low frequencies of the JBL PRX718XLF, you get complete control over the complete audio spectrum.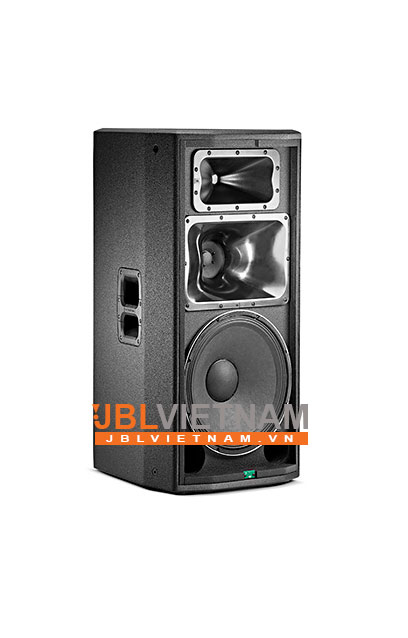 JBL PRX715 Features at a Glance:
1500 watts of onboard Class D amplification
Tri-amplified with 500W to each driver
15" 275F Differential Drive woofer
6.5" horn-loaded midrange transducer
1.5" annular-polymer-diaphragm neodymium compression driver
90 x 50 degree HF horn
Sophisticated onboard DSP
XLR, TRS, and RCA jacks give you I/O flexibility
Poplar plywood construction for light weight and roadworthiness
Grilles are made from dent-resistant 16 gauge steel
Handles are made from lightweight glass-filled nylon for strength and durability
Weighs 77 pounds
Floor, stack, or fly mounting
Suspension points are constructed from 14 gauge steel
Thông số kỹ thuật của bộ loa sân khấu hội trường JBL PRX735
| | |
| --- | --- |
| Powered | Yes |
| Power Configuration Tri-amped | (1500W Class D) |
| LF Driver Size | 15" |
| HF Driver Size | 1.5" (6.5" midrange driver) |
| LF Driver Power Amp | 500W Class D |
| HF Driver Power Amp | 500W Class D (500W to midrange driver) |
| Total Power Amp | 1500W |
| Frequency Range | 39Hz-20kHz (±3 dB) with boost engaged |
| Crossover Frequency | 480 Hz, 2.0kHz |
| Maximum Peak SPL | 136dB |
| Horizontal Coverage Angle | 90 Degrees |
| Vertical Coverage Angle | 50 Degrees |
| Enclosure Material Poplar | plywood |
| Mounting Options | Floor, Stack, Fly |
| Inputs | 2 x Balanced XLR / 1/4", 2 x unbalanced RCA |
| Outputs | 1 x XLR balanced |
| Height | 37.5" |
| Width | 17.52" |
| Depth | 21.18" |
| Weight | 77 lbs. |
>> xem thêm LOA JBL PRX700 Series
| | |
| --- | --- |
| Powered | Yes |
| Power Configuration Tri-amped | (1500W Class D) |
| LF Driver Size | 15" |
| HF Driver Size | 1.5" (6.5" midrange driver) |
| LF Driver Power Amp | 500W Class D |
| HF Driver Power Amp | 500W Class D (500W to midrange driver) |
| Total Power Amp | 1500W |
| Frequency Range | 39Hz-20kHz (±3 dB) with boost engaged |
| Crossover Frequency | 480 Hz, 2.0kHz |
| Maximum Peak SPL | 136dB |
| Horizontal Coverage Angle | 90 Degrees |
| Vertical Coverage Angle | 50 Degrees |
| Enclosure Material Poplar | plywood |
| Mounting Options | Floor, Stack, Fly |
| Inputs | 2 x Balanced XLR / 1/4", 2 x unbalanced RCA |
| Outputs | 1 x XLR balanced |
| Height | 37.5" |
| Width | 17.52" |
| Depth | 21.18" |
| Weight | 77 lbs. |