Ampli CROWN 14M
(0 đánh giá)
Mã SKU: 14M
Mã hàng : 14M
Bảo hành : 12 tháng
Tình trạng : Còn hàng
Xuất xứ: China Mô tả sản phẩm:
Số lượng

Tư vấn & Báo giá
Ampli CROWN 14M
Ampli CROWN 14M là cục đẩy công suất của thương hiệu JBL được nhập khẩu và phân phối chính hãng bởi jblvietnam.vn tại Việt Nam
The 14M, part of the Commercial Audio Series from Crown Audio, is a rack-mountable preamplifier/mixer ideal for use in factories, schools, hospitals, restaurants, offices, and other venues. It features four mic/line inputs with stereo RCA jacks and balanced phoenix-type connectors and a single output with a balanced phoenix-type connector. Priority muting is included for paging.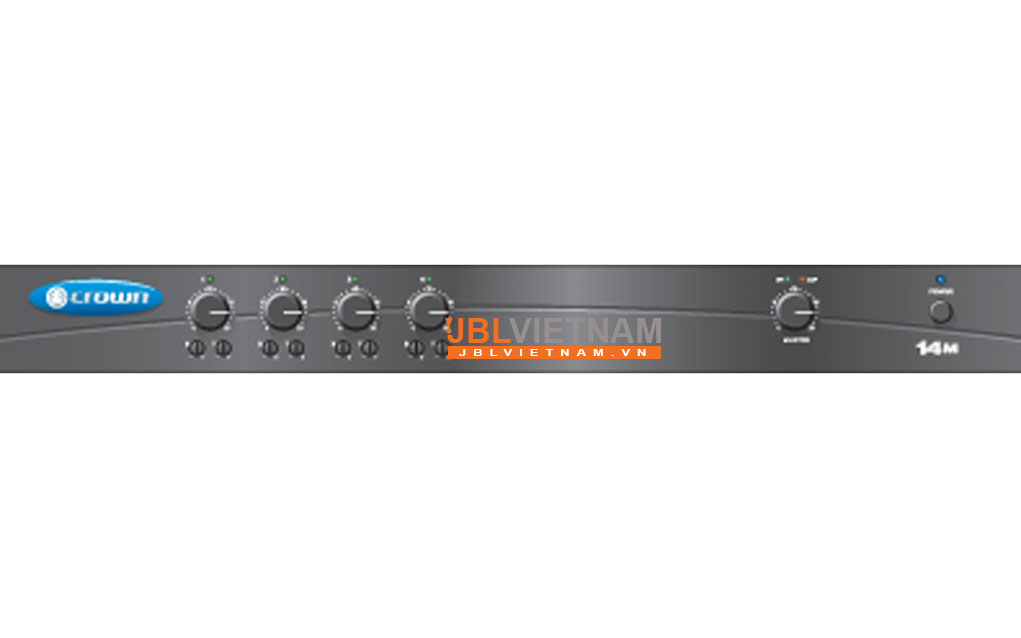 Individual volume, bass, and treble controls are provided for each input. LED signal indicators are provided for each input and the output.
>> xem thêm POWER CROWN Commercical Series
Four input channels, each with stereo RCA jacks and balanced phoenix-type connectors
One output channel with a balanced phoenix-type connector
Priority muting for paging
Signal indicator LEDs
Level, bass, and treble controls for each input
Phantom power
Ampli CROWN 14M
Frequency Response : 20Hz - 20kHz
Signal to Noise Ratio : 100dB
Total Harmonic Distortion (THD) : 0.05% (Typical)
Input Sensitivity : Balanced Mic: 3mV
Balanced Line: 800mV
RCA: 400mV
Input Impedance : Mic: 400 ohms
Line: 100 k ohms
RCA: 50 k ohms
Crosstalk : -50dB
Output Level : 1.2V
Phantom Power : 15VDC
Controls Front Panel : 1 x Power Switch
4 x Input Volume Control Knobs
4 x Bass Controls
4 x Treble Controls
1 x Output Volume Control Knob
Controls Rear Panel : 1 x Mixer Config. DIP Switch (For Priority Muting and Phantom Power)
4 x Mic/Line Selector Switches
1 x Output Tone Control Potentiometer
Indicators : Green LEDs for Input and Output Signals on Front Panel
Red Clip Indicator LED
Blue Power Indicator LED
Connectors : 1 x AC Power Inlet
1 x 2-Position Terminal Strip (24VDC Backup Power)
1 x 3-Pin Phoenix Connector for Priority Muting
1 x 3-Pin Balanced Phoenix Output Connector
1 x 5-Pin Phoenix Connector for Tone Generator
4 x Balanced 3-Pin Phoenix Input Connectors
4 x RCA Stereo Input Pairs (8 Jacks Total)
Dimensions (WxHxD) : 19 x 1.75 x 10.7" (483 x 45 x 272mm)
Weight : 8.7 lbs (3.9kg)