Ampli CROWN 180MA
(0 đánh giá)
Mã SKU: 180MA
Mã hàng : 180MA
Bảo hành : 12 tháng
Tình trạng : Còn hàng
Xuất xứ: China Mô tả sản phẩm:
Số lượng

Tư vấn & Báo giá
Ampli CROWN 180MA
Ampli CROWN 180MA là amply công suất của thương hiệu JBL được nhập khẩu và phân phối chính hãng bởi jblvietnam.vn tại Việt Nam
The 180MA mixer/amplifier from Crown Audio offers terrific sound quality and reliability, ideal for paging and background music in offices, schools, hospitals, retail stores, and other similar venues. It is an 80W unit designed for single-zone systems, and offers 4 ohm, 70 volt, and 100 volt outputs to meet your needs. It also features protection circuitry to prevent against damage from overheating, overloads, or short circuits.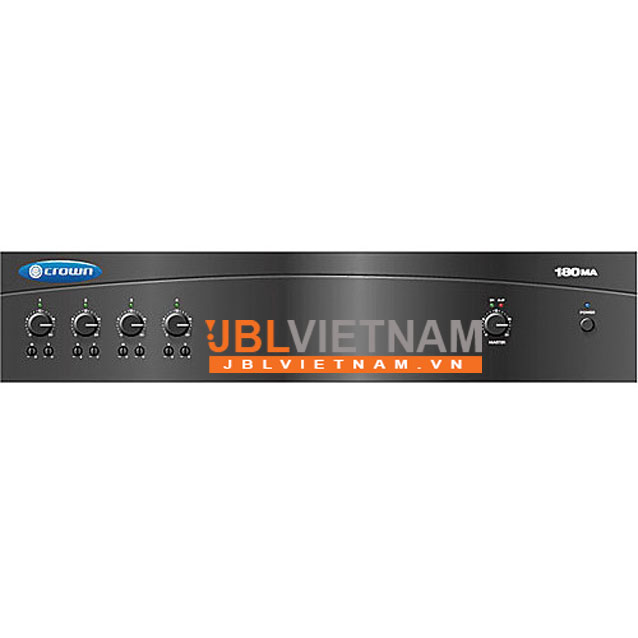 Ideal for paging and background music in schools, offices, hospitals, etc
70V/100V and 4 ohm output
4-input, 80W unit
Easily connected to Crown Audio Commercial Audio Series mixers and amplifiers for expandability
Sends any input to any output
Independent bass and treble controls on each channel
Balanced phoenix-type inputs, touch-proof screw terminal outputs
Built-in 4 tone generator for bell, pre-announce chime, alert tone, and evacuate tone
Protection circuitry helps prevent against damage from overheating, overloads, and short circuits
Priority muting
Convection cooled
>> xem thêm POWER CROWN Commercical Series
Ampli CROWN 180MA
Output Power : 80W into 4 ohms or 70V/100V
Damping Factor : Not Specified by Manufacturer
Input Sensitivity : Mic: 3 mV
Line: 800 mV
RCA: 400 mV
Input Impedance : Mic: 400 ohms
Line: 100 k ohms
RCA: 50 k ohms
Gain : Not Specified by Manufacturer
Frequency Response : 20Hz - 20kHz (Line Out)
70Hz - 19kHz (1W from 4 ohm tap)
Signal-to-Noise Ratio : 85dB
Total Harmonic Distortion (THD) : Less than 0.5%
Input Connections : 4 x 3-Pin Balanced Phoenix-Type Mic/Line Connectors
8 x Unbalanced RCA Jacks
4 x 3-Pin High-Impedance Balanced Phoenix-Type Amp Connectors
Output Connectors : 1 x 4-Position Terminal Strip with COM, 4 ohm, 70V, and 100V Terminals
1 x 4-Pin Phoenix-Type VCA Connector
1 x 3-Pin Balanced Phoenix-Type Line Out Connector
1 x 5-Pin Tone Generator Connector1 x 3-Pin Phoenix-Type Priority Connector
Controls Front Panel : Power Switch
4 x Detented Volume Knobs
4 x Bass Control Knobs
4 x Treble Control Knobs
Controls (Rear) : 1 x Reset Switch
1 x Amp Configuration Switch
1 x Tone Level Knob
4 x Mic/Line Switches
1 x Link In/Out Switch
Indicators : Front-Panel LEDs for Power, Signal, and Clip
Cooling : Convection Cooled
Power Consumption : Not Specified by Manufacturer
Dimensions (WxHxD) : 19 x 3.5 x 12.2" (483 x 89 x 310 mm)
Weight : 21 lbs (9.5 kg)
Specialties : Rear-Panel AC Outlet for External Device
Protection Circuitry for Overload, Overheat, and Short Circui