Loa âm trần JBL 8138
(0 đánh giá)
Mã SKU: JBL 8138
Mã hàng : JBL 8138
Bảo hành : 12 tháng
Tình trạng : Còn hàng
Xuất xứ: China Mô tả sản phẩm:
Số lượng

Tư vấn & Báo giá
Loa âm trần JBL 8138
Loa gắn trần JBL CSS 8138 thuộc dòng loa âm trần của thương hiệu JBL, với thiết kế tinh tế, mỹ thuật được trang bị loa độ nhạy cao 20cm nên phù hợp với mọi không gian sang trọng với hiệu suất âm thanh tuyệt vời. Để tìm mua sản phẩm Loa JBL CSS 8138 với giá tốt nhất, bạn có thể liên hệ Jblvietnam.vn, đối tác tin cậy của tập đoàn âm thanh Harman - JBL tại Việt Nam.
Đánh giá các ưu điểm của loa gắn trần JBL CSS 8138
The 8138 is an 8" ceiling speaker designed for use with a pre-install inceiling backcan, resulting in highfidelity performance at a costeffective price point. The 8138 is ideal for a wide variety of commercial sound applications from restaurant and retail to professional offices and reception areas.
Stylish, contemporary appearance enhances any decor.
Clear sound from an 8 inch dualcone full-range driver.
Very high sensitivity of 97 dB for maximum sound levels using minimum amplifier power.
6W transformer for use on 70V/100V distributed speaker lines
Installs to in-ceiling backboxes having 4 mounting points on an 11.25" (286 mm) diameter mounting circle.
For use with MTC-81BB8 backcan and MTC-81TB8 tile bridge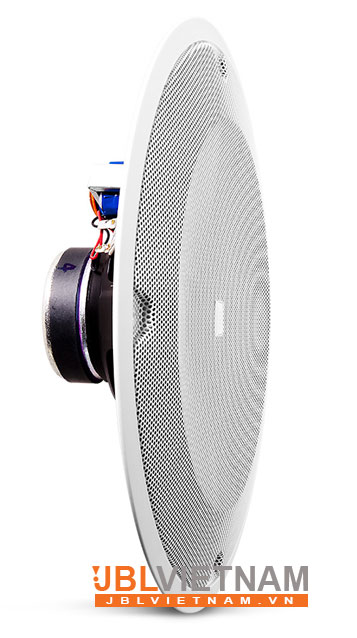 Thông số kỹ thuật của loa gắn trần JBL CSS 8138
Component
200 mm (8 in) Full-Range, Dual-cone
Frequency Range (-10 dB)
95 Hz – 18 kHz
Coverage (2 kHz)
90° conical
Sensitivity (2.83V@ 1m)
97 dB (1 kHz - 8 kHz)
Driver Power Capacity
40W (160W peak), 2 hrs 25W (100W peak), 100 hrs
70V/100V Transformer Taps
6W, 3W, 1.5W, (0.75W at 70V only)
Termination
Bare Wire
Magnet
10 ounces (283 g)
Safety Agency
Transformer is UL registered per UL1876
Installation

Full assembly consists of 8138 speaker plus MTC-81BB8 backbox and MTC-81TB8 tile bridge.

Four screw holes at industry standard 286 mm (11.25 in) mounting circle.

Dimensions (Diameter x Depth)

327 mm (12.9") diameter baffle x 84 mm (3.3") depth from back of baffle.

Overall depth, 99 mm (3.9")

Mounting Points
4 points on 286 mm (11.25 in) diameter mounting circle
Ceiling Cutout Dimension
300 mm (11.75") with tile bridge and backbox. 228 mm (9.0") diameter as stand alone.
Net Weight
1.4 kg (3.0 lb)
Included Accessories
Integral grille, 4 pcs M4 x 40 mm tapping screws
Optional Accessories

MTC-81BB8 backcan

MTC-81TB8 tile bridge
>> xem thêm LOA JBL 8100 Series
Component
200 mm (8 in) Full-Range, Dual-cone
Frequency Range (-10 dB)
95 Hz – 18 kHz
Coverage (2 kHz)
90° conical
Sensitivity (2.83V@ 1m)
97 dB (1 kHz - 8 kHz)
Driver Power Capacity
40W (160W peak), 2 hrs 25W (100W peak), 100 hrs
70V/100V Transformer Taps
6W, 3W, 1.5W, (0.75W at 70V only)
Termination
Bare Wire
Magnet
10 ounces (283 g)
Safety Agency
Transformer is UL registered per UL1876
Installation

Full assembly consists of 8138 speaker plus MTC-81BB8 backbox and MTC-81TB8 tile bridge.

Four screw holes at industry standard 286 mm (11.25 in) mounting circle.

Dimensions (Diameter x Depth)

327 mm (12.9") diameter baffle x 84 mm (3.3") depth from back of baffle.

Overall depth, 99 mm (3.9")

Mounting Points
4 points on 286 mm (11.25 in) diameter mounting circle
Ceiling Cutout Dimension
300 mm (11.75") with tile bridge and backbox. 228 mm (9.0") diameter as stand alone.
Net Weight
1.4 kg (3.0 lb)
Included Accessories
Integral grille, 4 pcs M4 x 40 mm tapping screws
Optional Accessories

MTC-81BB8 backcan

MTC-81TB8 tile bridge