Mixer SOUNDCRAFT GB2/16
(0 đánh giá)
Mã SKU: GB2/16
Mã hàng : GB2/16 / A.D
Bảo hành : 12 tháng
Tình trạng : Còn hàng
Xuất xứ: China Mô tả sản phẩm:
Số lượng

Tư vấn & Báo giá
Mixer SOUNDCRAFT GB2/16
Mixer SOUNDCRAFT GB2/16 là bộ trộn âm thanh chuyên nghiệp của thương hiệu JBL được nhập khẩu và phân phối chính hãng bởi jblvietnam.vn tại Việt Nam
This Soundcraft GR2R 16 is a 19" rack-mountable mixer designed specifically for smaller installations. The GB2R 16 is ideal in churches and cramped performance venues, or for small portable PA systems. The compact GB2R mixer is also welcome in broadcast where its high quality and feature set make it a lot of friends.
As with all Soundcraft consoles, operational simplicity, clear and intuitive layout and the highest possible audio performance are at the forefront with the compact GB2R. The Soundcraft GB2R mixer inherits both the GB30 Mic preamplifier and GB30 Equalizer designs from the GB4 and GB8.
For ease of installation, the connector section is contained in a rotatable pod, allowing cable access from the top of the mixer, if set on a tabletop, or from the rear when mounted in a 19" rack.
Every input has a pre/post switchable direct output for recording or effects sends, while an internal universal voltage PSU avoids external power supply connections.
The whole GB Series carries the high quality hallmark with which Soundcraft is synonymous, with the engineering and design you expect from this high-end manufacturer. Careful attention has been given to the mechanical construction to ensure reliability and ruggedness under strenuous conditions, with all input modules constructed with individual vertically-mounted PCBs, fitted to the steel chassis front panel with individually-nutted potentiometers.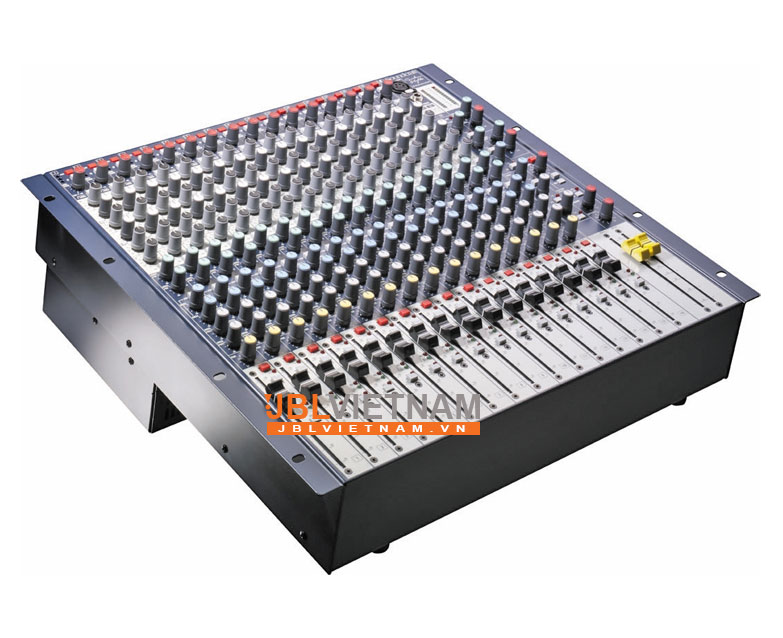 >> xem thêm MIXER SOUNDCRAFT GB Series
Mixer SOUNDCRAFT GB2/16
19" Rackmountable console
16 mono inputs, Stereo Mix and Mono Sum Outputs and 6 Aux Outputs. - Total Inputs to Mix: 22
Rotatable connector pod for top or rear cable entry
8 busses
GB30 Mic preamp and precision EQ on inputs
Switchable +48V phantom power on every mic input
100Hz Hi-pass filter
Direct outputs on every channel
100mm faders
Stereo Mix Output and separate Mono Sum output
Record output