Mixer SOUNDCRAFT GB4/32
(0 đánh giá)
Mã SKU: GB4/32
Mã hàng : GB4/32 / A.D
Bảo hành : 12 tháng
Tình trạng : Còn hàng
Xuất xứ: China Mô tả sản phẩm:
Số lượng

Tư vấn & Báo giá
Mixer SOUNDCRAFT GB4/32
Mixer SOUNDCRAFT GB4/32 là bộ trộn âm thanh chuyên nghiệp của thương hiệu JBL được nhập khẩu và phân phối chính hãng bởi jblvietnam.vn tại Việt Nam
The Soundcraft GB4 live console series is designed to deliver the audio fidelity and mixing capabilities necessary in front-of-house (FOH) or monitor mixing applications in large or small venues. The GB4 is available in 12, 16, 24, 32 and 40 channel frames to suite specific needs in live sound mixing.
This model is configured with 32 input channels. 32 inputs feature microphone and line level connections, an additional 4 stereo inputs are provided as well. The stereo inputs (ST1 - ST4) provide L/R stereo line level inputs and 3-pin XLR microphone inputs for stereo microphone placement when capturing vocals, instruments, ambiance, etc. The console features 4 group outputs enabling routing to monitors, external recorders, etc. The GB4 series implements Soundcraft's GB30 microphone preamp and EQ, delivering the sonic quality expected of more costly consoles.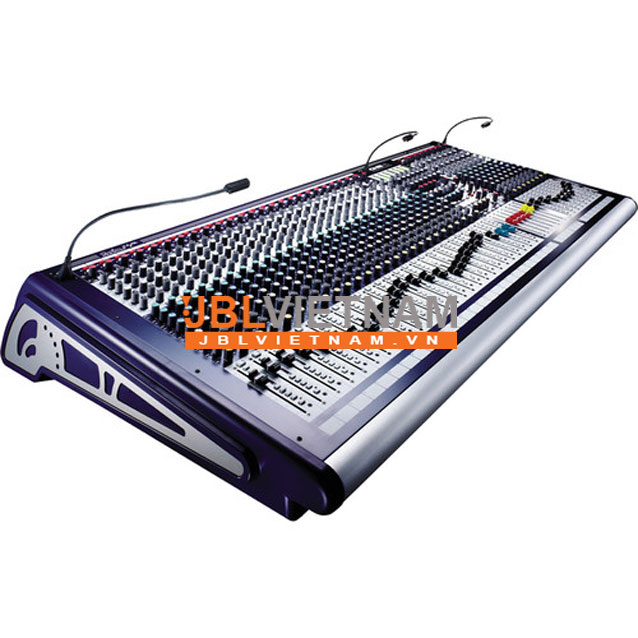 Additional features include Soundcraft's famed matrix mixer for added routing flexibility and an integrated meter bridge, enabling accurate metering.
>> xem thêm MIXER SOUNDCRAFT GB Series
32 Mono, 4 Stereo Input Channels
The GB4 series is available in a variety of frame configurations. This model features 32 mono and 4 stereo inputs
4 Subgroup Outputs
The GB4 series feature 4 group outputs for routing to external recorders, monitors, etc.
Matrix Mixer
The matrix output mixer provides added routing flexibility.
8 Auxiliary Sends
8 auxiliary sends provide plenty of routing to external effects, monitors, etc.
Direct Outputs
All mono inputs provide direct outputs for direct routing to recorders, mixers, etc.
GB30 Microphone Preamplifiers
Soundcraft's GB30 microphone preamplifiers provide an ultra low-noise floor while maintaining high output gain.
Integrated Meter bridge
The GB4 series features an integrated LED and VU meter bridge for accurate metering of input and output level.
Mixer SOUNDCRAFT GB4/32
Total # Of Inputs : 32 Total
Mic/Line Inputs : 32 Line: 1/4" TRS Phone
32 Microphone: 3-pin XLR
Stereo Line Inputs : 4 Stereo: L/R Paired 1/4" Phone Line & 3-pin XLR Microphone
In-Line Inputs/Returns     No
AUX Sends : 8 Aux Sends
AUX Returns : 4 Stereo Returns
Inserts : 1/4" TRS Phone - Mono Inputs, Main Output and Subgroup Outputs
BUS (Group) Outputs : 4 Subgroups: Balanced 3-pin XLR
2 Trk Master I/O : Mix L/R: Stereo Paired 3-pin XLR Balanced
ALT I/O : ALT Stereo: L/R Stereo Paired 1/4" Output
Monitor Outputs : Monitor: L/R Stereo Paired 1/4" TRS Phone
EQ Section : High Filter: 13kHz, +/- 15dB, 2nd order shelving
Hi-Mid: 550Hz - 13khz, +/- 15dB, Q=1.5
Lo-Mid: 80Hz - 1.9kHz, +/- 15dB, Q=1.5
Low Filter: 80Hz, +/- 15dB, 2nd order shelving
Solo/Mute : All Input Channels
Channel Level Control : 100mm Faders
Trim/Gain Control : Rotary Potentiometers
Phantom Power : +48V Phantom individually switched
Metering Input Channels: Single tri-color 4-segment LED bar graph
Outputs: 7 tri-color 12-segment LED bar graphs, + Meter pod with 3 VU meters (L/R/C)
Frequency Response : 20Hz to 20kHz <1dB
Dynamic Range : not specified by manufacturer
Signal-to-Noise Ratio : Measured RMS, 22Hz to 22kHz Bandwidth
-128dBu Mic E.I.N. @ unity gain, 150 ohms source impedance
<-82dBu Mix Output, 40 inputs routed to mix
<-83dBu Group & Center Outputs<-80dBu Aux Outputs
<-89dBu Matrix Outputs
Total Harmonic Distortion (THD) : <0.006%Mic sens. -30dBu, +20dBu at all outputs @ 1kHz
Power Supply : Internal AC PSU - 85V, 270V AC, 50/60Hz universal input
Power Consumption
Less than 150W
Dimensions : 51.17 x 9.23 x 25.83" (1300 x 235 x 656mm) (WxHxD)
Weight : 70.5 lbs. (32 kg)