Ampli CROWN CTs2000
(0 đánh giá)
Mã SKU: CTs2000
Mã hàng : CTs2000
Bảo hành : 12 tháng
Tình trạng : Còn hàng
Xuất xứ: China Mô tả sản phẩm:
Số lượng

Tư vấn & Báo giá
Ampli CROWN CTs2000
Ampli CROWN CTs2000 là cục đẩy công suất của thương hiệu JBL được nhập khẩu và phân phối chính hãng bởi jblvietnam.vn tại Việt Nam
The Crown CTs-2000 is a 2-Channel power amplifier housed in a 2-space rackmount frame, offering power levels and features meant to serve fixed installation sound applications. This amplifier is notable for a completely independent array of switches and indicators for each channel, including high and low impedance operation, input sensitivity, high pass filters, and an advanced level of well designed overload protection circuitry.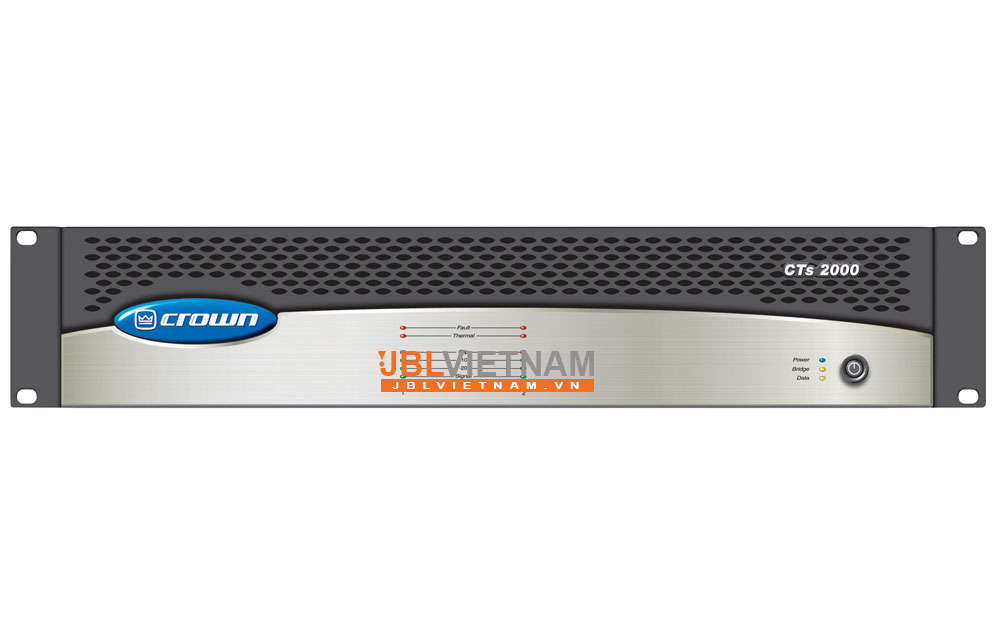 High-power, 2-channel, 2U rackmount amplifier for installed sound applications
Switching power supply lowers overall amplifier weight
Direct 70V/100V/140V/200V constant-voltage or 2/4/8 Ohm low-impedance operation
Independently selectable Input Sensitivity switching per channel
Rear panel Programmable Input Processor(PIP2) connector accepts accessory expansion modules for specific custom installation requirements
Thermal Level Control(TLC) circuitry protects amplifier from overheating; engages input compressor, dynamically reducing input gain when individual channels overheat
Junction Temperature Simulation(JTS) quick-activation circuitry limits drive level of output devices to tolerable range if excess power is required; protects output transistors without shutting down channel
Continuously variable fan cooling; venting with front-to-rear forced airflow
Removable balanced terminal block input connectors with "Y" switch
Switchable high pass filter per channel, eliminates step down transformer saturation in distributed systems
Complete array of front panel function and warning indicator LED's for each channel
Complete array of rear panel function and filter switches
Power on indicator flashes when AC mains are under or over voltage
Advanced protection circuitry covers shorted outputs, DC, mismatched loads, overheating, high frequency overloads, voltage fluctuation and internal faults.
>> xem thêm POWER CROWN CTS Series
Ampli CROWN CTs2000
Power Rating : 1000 Watts @ 8 Ohms, Dual (Per Channel)
Damping Factor : 10 Hz - 100 Hz:>3000
Input Sensitivity Switchable:
1.4V(8/4 Ohms)
26 dB Gain:
2.46V(4 Ohm Load)
3.47V (8 Ohm Load)
1.4V(70V)
Input Impedance : 10 kOhms balanced(nominal), 5 kOhms unbalanced(nominal)
Gain : 63.9:1 (36 dB)
Frequency Response : 20 Hz - 20 kHz +/-0.25 dB @ 1 Watt
Signal-to-Noise Ratio: 105 dB A-Weighted, below rated power(20 Hz - 20 kHz)
Total Harmonic Distortion (THD) : < 0.35%, at full rated power (20 Hz - 20 kHz)
Input Connections : 2 x Balanced 3-Pin Terminal Block Connectors(one per channel)
Output Connectors : 1 x 4-Pole Terminal Strip(Ch 1, Ch 2)
Controls Front Panel : 1 x Power Switch
Controls (Rear) : 1 x Reset Switch
1 x Rotary Channel Level Control(per channel)
1 x 2-Position Operation Mode Switch
1 x Highpass Filter Switch(per channel)
1 x "Y" Input Switch
1 x Interior 3-Position Input Sensitivity Switch(per channel)
Indicators : Front Panel:
1 x Yellow LED Bridge Mode Indicator
1 x Green LED Ready Indicator
3 x Green LED Signal Indicators(per channel)
1 x Red LED Clip Indicator(per channel)
1 x Red LED Thermal Indicator(per channel)
1 x Red LED Fault Indicator
1 x Yellow LED Data Indicator(per channel)
1 x Blue LED Power Indicator
Back Panel: No Indicators on Back Panel
Cooling : Continuously Variable Speed Fans
Ventilation Grille(Front),Cooling Vents(Back)
Front-to-Rear forced airflow
Power Consumption : 35 Watts (120 VAC Mains)
Dimensions : 19 x 3.5 x 14.25" (483 x 89 x 362mm)
Weight : 27.0 lb (12.2 kg)
Specialties : Variable Speed Fan Cooling
Thermal Level Control
JTS Limiting Circuitry