Ampli CROWN CTs4200A
(0 đánh giá)
Mã SKU: CTs4200A
Mã hàng : CTs4200A
Bảo hành : 12 tháng
Tình trạng : Còn hàng
Xuất xứ: Chính hãng Mô tả sản phẩm:
Số lượng

Tư vấn & Báo giá
Ampli CROWN CTs4200A
Ampli CROWN CTs4200A là cục đẩy công suất của thương hiệu JBL được nhập khẩu và phân phối chính hãng bởi jblvietnam.vn tại Việt Nam
The Crown-Audio CTs 4200 is a 4-channel power amplifier housed in a 2RU rack, offering 190 watts per channel at 8 ohms, designed for fixed installation use.
This amplifier features multiple simultaneous channel operation modes, 70 volt and 100 volt support, a switching power supply, and a variable speed fan cooling system. There is a comprehensive set of front panel indicators for each channel, along with advanced, well-designed thermal protection and fault isolation circuitry. The rear panel offers individual channel level trim controls, and 4-position operating mode switches.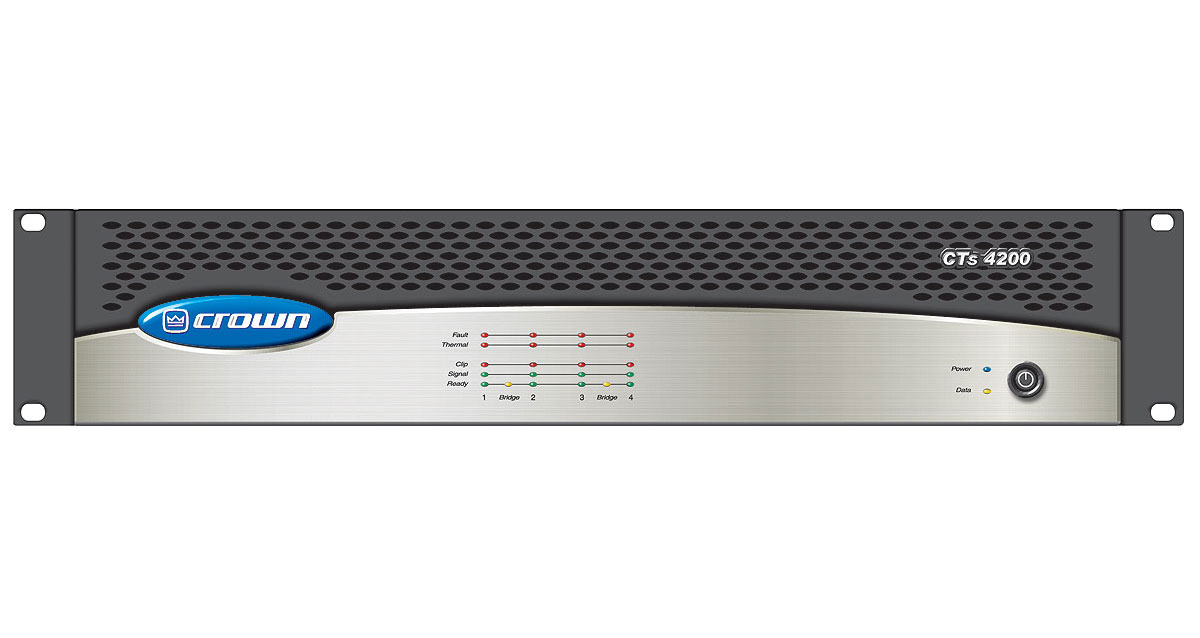 The CTs 4200 offers a progressive design and advanced features for a moderate price per channel, and represents a viable solution for budget-conscious commercial, theatrical, educational, and houses of worship installations.
>> xem thêm POWER CROWN CTS Series
4-channel installation power amplifier in 3 RU rackmount enclosure with 180W of power per channel at 8 ohms
Crown switching power supply for reduced weight
Selectable constant voltage 70V/100V or 4/8 ohm low impedance operation per channel pair with dedicated 4-position switches
Multi Mode output topology allows for simultaneous dual and bridged operation
FIT(Fault Isolation Topology) circuitry isolates faulty channels; adjacent channels remain unaffected
TLC thermal protection circuitry engages internal channel compressor, dynamically reduces amplifier gain to reduce heat levels and prevent overheating
Front-to-rear forced airflow cooling vents, continuously variable speed fan cooling
Automatically inserted 35 Hz high-pass filter for channel pair in 70/100V operation
Advanced protection circuitry includes guards against shorted outputs, open circuits, mismatched loads, general overheating, DC, under/over voltage, high frequency overloads and internal faults
Comprehensive front panel indicator array includes individual channel LEDs for Bridge, Ready, Signal, Clip, Thermal and Fault; dedicated Power and Data indicators
Blue power indicator LED flashes when amplifier shuts down during under/over voltage condition on AC mains
Ampli CROWN CTs4200A
Damping Factor : 10 Hz - 400 Hz: >180
Input Sensitivity : 1.4V
Input Impedance : 20 kOhms balanced (nominal)
10 kOhms unbalanced (nominal)
Gain : 4/8 ohm Operation: 20:1 (26 dB)
70V Operation: 50:1 (34 dB)
100V Operation: 71.4:1 (37 dB)
Frequency Response : 20 Hz - 20 kHz +/-0.5 dB @ 1W
Signal-to-Noise Ratio : 100 dB unweighted (20 Hz - 20 kHz, below rated power)
Total Harmonic Distortion (THD) : <0.05% @1W, from 20 Hz - 20 kHz
Input Connections : 2 x Removable Phoenix Balanced Barrier Blocks
Output Connectors : 2 x 4-pole Terminal Strips with Touch-Proof Covers*
*1 for every 2 channels
Controls Front Panel : 1 x Power Switch
Controls (Rear) : 4 x 21-position Rotary Channel Level Trim Controls (-70 - 0 dB)
2 x 4-position Dual/Bridge Mode Switches
Indicators : Front Panel:
2 x Yellow LED Bridge Mode Indicators
4 x Green LED Ready Indicators
4 x Green LED Input Signal Indicators
4 x Red LED Thermal Indicators
4 x Red LED Fault Indicators
1 x Yellow LED IQ Loop Data Indicator
1 x Blue LED Power Indicator
Rear Panel: None
Cooling : Continuously Variable Speed Forced Air, Front to Back Airflow
Power Consumption : 58W, Idle, All Channels 4/8 ohm Mode*
77W, Idle, All Channels 70V Mode*
*120 VAC
Dimensions: 19 x 3.5 x 16.25" (483 x 89 x 413mm)
Weight: 27.8 lbs (12.5 kg)
Specialties : 4-channel Rackmount Installation Amplifier
4 Switchable Modes include 70 and 100V Operation