Bộ đẩy công suất CROWN XLS1500
(0 đánh giá)
Mã SKU: XLS1500
Mã hàng : XLS1500
Bảo hành : 12 tháng
Tình trạng : Còn hàng
Xuất xứ: China Mô tả sản phẩm:
Số lượng

Tư vấn & Báo giá
Bộ đẩy công suất CROWN XLS1500
Bộ đẩy công suất CROWN XLS1500 thuộc dòng cục đẩy công suất của thương hiệu JBL hiện được nhập khẩu và phân phối chính hãng tại jblvietnam.vn
The XLS 1500 is a 525W @ 4 Ohms 2-channel power amplifier. Crown's XLS Series amplifiers define the standard for portable PA systems with unmatched performance, technology and affordability. Its advantageous flexibility includes multiple inputs so you can plug in anything and play anywhere, along with several system setup configurations. The integrated crossovers and switch-mode power supply produce superior sound, and Peakx™ limiters protect your speakers. Weighing less than 12 pounds, compared to 40 pounds for its competitors, it's much easier to set up and move from show to show. Simply put, the XLS is most reliable, versatile, efficient amp available today.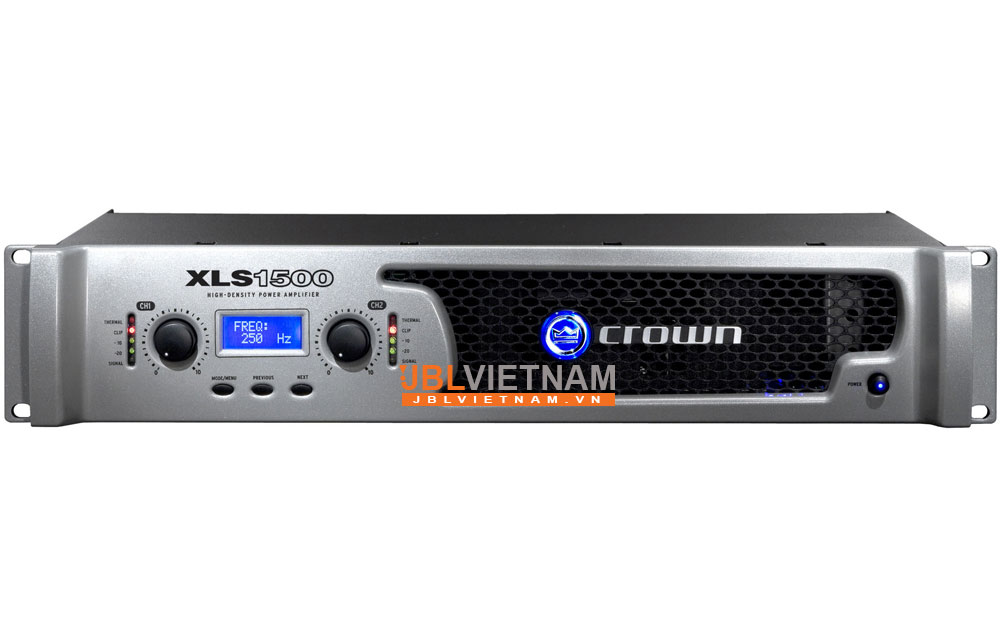 Features
XLS High Performance, Lightweight Class D amp weighs less than 11 lbs.
Integrated PureBand™ Crossover System for better performance and control
Peakx™ Limiters provide maximum output while protecting your speakers
XLR, 1/4", RCA inputs provide outstanding flexibility
Efficient forced-air fans prevent excessive thermal buildup
Electronically balanced XLR inputs; touch proof binding post and Speakon® outputs
Precision detented level controls, power switch, power LED, and six LEDswhich indicate signal, clip and fault for each channel
Three-Year, No-Fault, Fully Transferable Warranty completely protects your investment and guarantees its specifications
>> xem thêm POWER CROWN XLS Series
Bộ đẩy công suất CROWN XLS1500
Total Harmonic Distortion (THD): < 0.5%
Intermodulation Distortion (IMD): (60Hz and 7kHz at 4:1)
From fullrated output to -30dB: <0.3%
Damping Factor (8 ohm): 10 Hz to 400 Hz: > 200
Crosstalk (below rated 8O power):
At 1kHz: > 85dB
At 20kHz:>55dB
Input Impedance (nominal): 20 kO balanced, 10 kO unbalanced
Load Impedance:
2 to 8 ohms per channel in Stereo
4 to 8 ohms inBridge Mono
AC Line Voltage and Frequency Configurations Available (± 10%):
120 VAC60 Hz
100 VAC 50/60 Hz
220 and 240 VAC 50 Hz
Ventilation: Flow-through ventilation from front to back
Cooling: Internal heat sinks with forced-air cooling for rapid, uniformheat dissipation
Air Volume Requirements (per minute per unit): 80.15 ft³ (2.27 m³)
Integrated Processing:
PureBand™ Crossover System
Crossover Filter:Linkwitz-Riley 24dB per Octave
Crossover Frequency Range: 50 HZ - 3kHz
Crossover Mode: Crossover (CH1=LPF, CH2=HPF), LowPass (both channelsLPF), HighPass (both channels HPF), Bridge (LPF or HPF).
Peakx™ limiters:Channel independent clip limiter designed to provide maximum output whileprotecting your loudspeakers
Input/Output:
Input Connectors: XLR (one per channel), 1/4-Inch (oneper channel), and RCA (one per channel). 1/4-Inch connectors can be used asloop-thrus to distribute signal to additional amplifiers.
OutputConnectors: Two 4-Pole Speakon® Output Connectors accept 2-pole or 4-poleSpeakon® connectors. The top Speakon connector is wired for both channels soit can be used for bridgemono wiring or
for stereo wiring of two speakers to asingle Speakon connector.
One pair of back-panel binding posts per channel;accepts banana plugs or bare wire. (European models do not accept bananaplugs.)
Construction: 8.12" depth
Dimensions (H x W x D): 3.5" x 19" x 7.7"
Weight (Net, Shipping): 8.6 lbs, 13.6 lbs