Bộ Micro AKG Perception 45 Sports Set
(0 đánh giá)
Mã SKU: 45 Sports Set
Mã hàng : Perception 45 Sports Set / (PI)
Bảo hành : 12 tháng
Tình trạng : Còn hàng
Xuất xứ: China Mô tả sản phẩm:
Số lượng

Tư vấn & Báo giá
Bộ Micro AKG Perception 45 Sports Set
Bộ Micro AKG Perception 45 Sports Set là bộ thu phát không dây của thương hiệu JBL được nhập khẩu và phân phối chính hãng bởi jblvietnam.vn tại Việt Nam
The Perception Wireless high performance Sports Set delivers brilliant sound and is surprisingly easy to use. The included PT45 body-pack transmitter is the small- est and lightest transmitter in its class. The package also includes a C544 L condenser head-worn microphone featuring an external shock mount for high mechanical-noise rejection. Its moisture shield ensures a high degree of humidity protection for the microphone.
The Perception Wireless Sports Set package includes:
1 x SR45 Receiver
1 x PT45 Body-pack transmitter
1 x C544 L Head-worn microphone
1 x Universal power supply with US/UK/EU adapter, 1 x AA size battery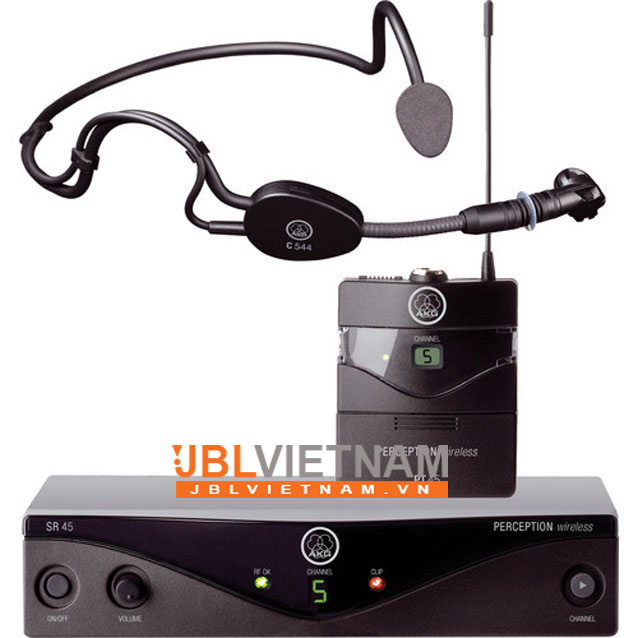 SR45
The SR45 analog high-performance space diversity wireless receiver provides maximum ease of use with different channel presets up to eight channels. It is perfect for instrumental and vocal performances in small clubs as well as for use in houses of worship and in conference rooms.
The SR45 provides an audio clipping and RF signal LED for easy monitoring of systems status. Best audio signal output is provided via both a professional XLR and a 1/4" jack connector. For worldwide use, the receiver comes with a universal, switched mode power supply kit.
PT45
The PT45 is an analog high-performance wireless body-pack transmitter in a small, rugged housing. A professional mini XLR audio connector makes the body-pack compatible with all kinds of guitars, basses, instrumental pickups and headsets. It is designed for stress-free work on small stages, in houses of worship and in conference rooms.
The PT45 provides a gain control for perfect adjustment of the input volume and a noiseless on/off/mute switch. A battery-status indicator shows red before the battery goes dead, allowing the user full control of performance time. The package includes a rugged guitar cable.
>> xem thêm MICRO AKG PERCEPTION Series
Bộ Micro AKG Perception 45 Sports Set
PT45
Audio Frequency bandwidth: 40 to 20000 Hz
Signal to Noise : 105 dB-A
THD at 1 kHz: 0.8 Prozent
Operating temperature range : -10 to 55 Celsius
Peak deviation : 45 kHz
Nominal deviation: 15 kHz kHz
Radio Output Power (min/max) : 0 ... 0 mW
Transmitter Synchronization : Manual
Audio : Input
Type : Mini XLR
Gender : Female
Contacts : 3-pin
Maximum audio level : 12 dB
Rated Impedance: 1 Ohms
Batterietype : LR6 AA alkaline battery
Number : of Batteries 1
Operating Time: 8 h