Bộ Micro AKG Perception 45 Vocal set
(0 đánh giá)
Mã SKU: 45 Vocal
Mã hàng : Perception 45 Vocal set
Bảo hành : 12 tháng
Tình trạng : Còn hàng
Xuất xứ: China Mô tả sản phẩm:
Số lượng

Tư vấn & Báo giá
Bộ Micro AKG Perception 45 Vocal set
Bộ Micro AKG Perception 45 Vocal set là Micro của thương hiệu JBL được nhập khẩu và phân phối chính hãng bởi jblvietnam.vn tại Việt Nam
Bộ Micro AKG Perception 45 Presenter setThe AKG Perception Wireless Vocal Set - Frequency A / 530 - 560 MHz is intended as an affordable wireless handheld microphone package, well suited for DJs, presenters, singers and more. The system includes the SR 45 wireless receiver and HT 45 handheld microphone.
The HT 45 is lightweight and features a 3-way on/off/mute switch. Simply power the microphone transmitter and receiver, choose between one of the 8 available UHF frequencies, and you're ready for wireless vocals. The compact HT 45 is powered with a single AA battery for up to 8 hours.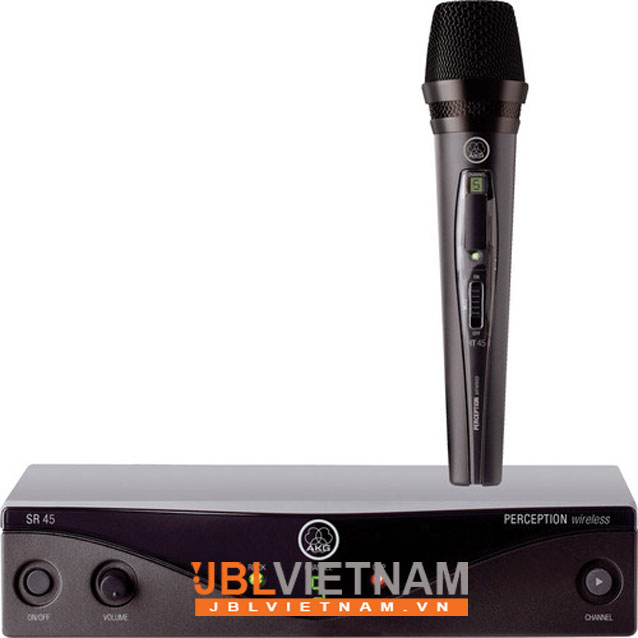 30 MHz selection bandwidth (depending on local frequency plans)
8 hours of operation with a single AA size battery
Gain control on handheld transmitter
Low battery indicator
Noiseless on/off/mute switch on handheld transmitter
>> xem thêm MICRO AKG PERCEPTION Series
Bộ Micro AKG Perception 45 Vocal set
Receiver
Receiver Type : SR 45 Receiver
Carrier Frequency : A / 530 - 560 MHz
Modulation : FM
Audio Bandwidth : 40 Hz to 20 kHz
THD & Noise : typ. 0.8%
Signal-to-Noise Ratio : typ. 105 dB(A)
Squelch : -100 to -70 dBm Adjustable
Connections : Balanced XLR and unbalanced 1/4" (6.3 mm) jack: adjustable from mic to line level. Output level at rated deviation: 500 mV rms
Dimensions : 7.87 x 7.48 x 1.73" (200 x 190 x 44 mm)
Weight: 0.80 lb (360)g
Transmitter
Transmitter Type : HT 45 Handheld Microphone
Polar Pattern : Cardioid
Carrier Frequency : A / 530 - 560 MHz
Modulation : FM
Audio Bandwidth : 70 Hz to 20 kHz
THD & Noise : typ. 0.8%
Signal-to-Noise Ratio : typ. 105 dB(A)
RF Output : 10 mW
Power : 1x 1.5 V AA Battery
Up to 8 Hours
Dimensions : 9.01 x 2.08 x 2.08" (229 x 53 x 53 mm)
Weight : 0.47 lb (214 g)